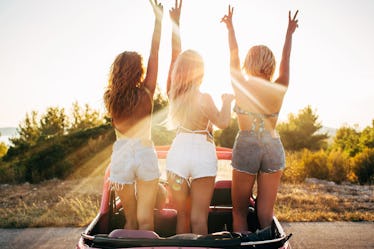 How Your Girl Crew Changes In Your 20s Compared To Your 30s
Thank goodness for your girl crew. They've been there through thick and thin, and life wouldn't be nearly as interesting without them. There have been many Galentine's Day brunches, and late-night phone calls asking for advice. Now that you're grown, there will be the bridal showers and so many "firsts." From your 20s to your 30s, you may realize a few ways your friend group changes. For one, you won't be eating pizza on the floor of your apartment anymore. It's a whole new chapter. Are you ready for it?
Growing up has been a whirlwind. You've somewhat figured out how to be an adult, and have likely paid for rent or gone grocery shopping on your own. In college, you may have relied on your roommates when you weren't sure how long you should put that chicken in the oven, or for snacks at the library. But now, in the real world, you're calling on all of your girls no matter how far away they may be to make sure you're still on the right track.
Taking less risks sort of comes with the territory, and you'll notice that your girls won't be taking chances every second they get. You're all likely going to be more settled down, or have a better handle on life itself. These seven things will be too true, when you look back and see just how your girl crew has changed over the years.