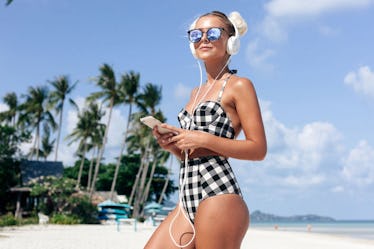 The Top Preset Packs You Should Download This Summer, So Your 'Gram Glows Brighter Than The Sun
It's basically the start of the sunniest and warmest season of the year, and you're celebrating in every way possible. You're filling up your online shopping carts with bathing suits and new headphones that'll be perfect for the beach. You're texting your besties, "It's going to be so nice out this weekend," and making plans to get outside and enjoy the fresh air. You're also prepping your Instagram so that it's ready for colorful photos of sunsets and fresh smoothies. Have you considered purchasing and downloading one of the best summer presets for 2019? Word around the block is that they'll make your feed glow brighter than the sun.
Now, for those of you who don't already know what presets are, let me give you a little #content lesson. Presets are essentially filters that you can apply to your photos in Adobe Lightroom. Some are meant to be used in the desktop version of this program, while others are meant for the free mobile version, where you can use them to edit the photos on your phone.
All of them can enhance your selfies, travel pics, and artsy snaps of your açaï bowls. They take care of all the details like exposure, for example, so that you can simply tap "share" and continue enjoying summer. After all, editing can be a process and nobody wants to do it at a pool party! Grab these five preset packs instead, OK?