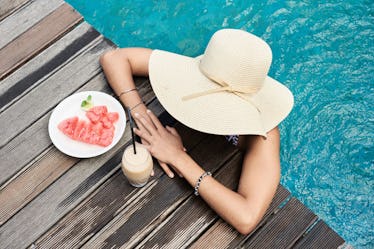 Snap These Iced Coffee Pictures This Summer For The Most Brew-tiful Feed
In the summertime, your social media accounts get an upgrade. Your feeds look more colorful, vibrant, and exciting, and your pictures are all edited with the latest preset packs from your favorite influencers. Your #content racks in the comments and likes regularly, because everybody wants to know where you've been traveling to or grabbed that amazing smoothie bowl. It's pretty safe to say that you post more, too — or at the very least have the phrase, "photo shoot" scribbled into your schedule on most weekends. I'm right there with you, and know that you need some inspiration for pictures to take with your iced coffee and creating a brew-tiful feed.
After all, you don't go many places without your cold brew. Whether you're traveling or at home, it's always in your hand, along with your camera and a napkin for when the outside of the cup starts to drip. It's the first thing that you think about in the morning, and what keeps you going throughout the day. It's the accessory that makes your outfits feel complete, and the prop that will forever have a place on your Instagram account. (Seriously, what would you do without it?)
Most importantly, your iced coffee is your greatest inspiration. You can always count on it to look photogenic, or be your muse. Occasionally, though, you do run out of ideas and need a little extra help. Don't worry! I have five picture ideas for your cold brew that you'll totally love.