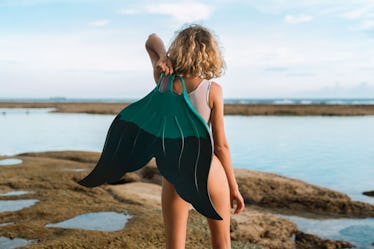 The Best Small Beach Towns & Cities In The U.S. Will Make A Big Splash On Your Feed
Now that the weather is getting warmer, you know that your personal #content calendar is about to be very busy. Your camera roll will soon be filled with pictures of surfers riding the waves, the lush mountains and hiking trails near your city, and the sky when it turns pink around 8 p.m. To say you're excited would be an understatement, and you're already texting your besties messages like, "Where are we going to take pictures this weekend?" Together, you've considered tropical destinations and cozy cottages on the East Coast. The best small beach towns and cities in the U.S. are truly where you need to go, though, to make a big splash on social media.
Imagine this: It's a sunny day in the middle of July, and you're in a quaint town that's nestled along the coastline. The beaches aren't that packed, hosting locals who live within walking-distance and travelers who spontaneously stopped along their drive to somewhere else. You're hanging on the porch of your Airbnb or hotel, listening to waves, eating fresh fruit, and occasionally snapping pics on your camera.
To be honest, you couldn't be more at peace if you tried. Everything in your little corner of the world just feels and looks picture-perfect. Well, odds are, you're in one of these six small beach towns and cities that'll make a big splash on your feed. Check them out in real life, OK? Then, post about them on Instagram, Twitter, or wherever you please.