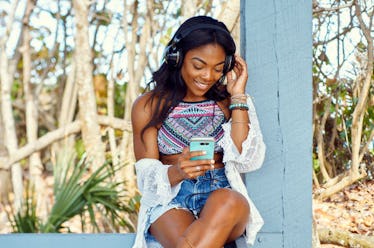 Spotify's Predicting The Hottest Summer Songs To Up Your Playlist Game
Summer is almost here, and what better way to launch into the warmest season than with some summery tunes? Every summer has its own anthems and soundtracks — for me, 2018 was all about Cardi B and the summer of 2017 featured Dua Lipa in heavy rotation. This year, Spotify has predicted some tracks that might take over the airwaves and your speakers during the summer, and you'll definitely want to check them out for some serious summer vibes. Spotify's 2019 summer song predictions will help you make the best playlists for the months to come.
In a June 12 post in Spotify's Newsroom called "Spotify's 2019 Summer Song Predictions," the streaming service shared all the new tracks that have a bunch of potential to make great summer bops in 2019. The post also briefly explained about how Spotify picked the songs due to factors like streaming numbers and future forecasting, a process that was explained in more detail in last year's list of summer songs. In that post, Spotify delved into how the company determines summer songs. There are several criteria Spotify looks for in songs before they get the summer stamp of approval, like songs on an upward trajectory which show no sign of slowing down soon, songs with strong chart performance, songs generating buzz, songs that "sound like summer," and songs that just feel right because, according to the blog post, "some songs just have that inexplicable summer magic."
Spotify's summer predictions for 2019 contain several songs that fit this criteria exactly. In fact, the streaming service listed 20 songs in total that will get you set for the season. Here are 10 of the songs, in no particular order, that Spotify believes will dominate summer 2019.