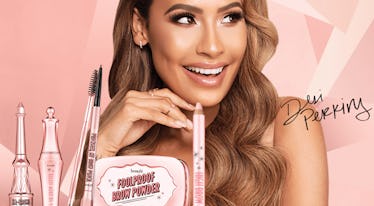 The Benefit x Desi Perkins Bomb-Ass Brows Kit Includes $129 Worth Of Products For Only $59
Benefit Cosmetics
If there's one thing I love more than a good influencer collab, it's some great brows. When it comes to the tedious, tricky art of filling in eyebrows, I often find that taking tips from someone who has already mastered their brow game is the best way to improve and ace those arches. So, when I heard about the Benefit x Desi Perkins Bomb-Ass Brows Kits, I knew I'd never struggle again: Benefit is renown for their brow products, and Perkins is always sporting beautifully sculpted brows, so their decision to team up instantly felt like a match made in brows-on-fleek heaven.
If, like me, you're a devout watcher of the Youtube beauty guru community, you probably remember the brow tutorial video Perkins filmed at the start of 2017, which has since amassed an impressive 1.5 million views, all from those of us less apt than she at penciling to perfection. The reason it was such a popular video? Perkins isn't someone with naturally bushy brows — she got honest with her audience about her dislike for her sparse patches, and went up close and personal in showing how to really improve them and create a natural, realistic look. In her video, she uses the Benefit ka-Brow! Eyebrow Cream-Gel Color ($24, benefitcosmetics.com), which is why her choice to team up with the brand now feels like a natural fit.
"Brows are an insecurity that I've had for so long," Perkins tells her 3.8 million Instagram followers via a video on her Story, "and with tutorials and Youtube, turned it into something that is kinda my favorite thing to do."
"Everytime I see somebody say they wish they had brows like me, I kind of smile and die inside, because listen: your girl doesn't have any brows!," Perkins shares on her Instagram Story. "Honestly, for me, Benefit Cosmetics makes the best brow products. I've been using them forever, and I'm so excited that I have this box finally available."
Whether you prefer pomade, powder, or pencil for your brows, this kit's got you covered, with Benefit's signature products revamped in cute rose gold packaging:
The kit is available in five shade options: "Light," "Medium Cool," "Medium Neutral," "Medium Warm," and "Deep." Inside, it contains a mini ka-BROW! ($12, benefitcosmetics.com) as well as full-size versions of Precisely, My Brow Pencil ($24, benefitcosmetics.com), Foolproof Brow Powder ($24, benefitcosmetics.com), 24-HR Brow Setter ($24, benefitcosmetics.com), High Brow ($22, benefitcosmetics.com), and a dual-ended angled brow brush and spoolie ($20, benefitcosmetics.com). Together, all these products total up to a whopping $126 for flawless brows, so considering the kit costs just $59, it's safe to say you're getting your money's worth.
Obviously, Perkins is beautiful sparse brows and all, but I commend her for creating a kit tailored to an area she herself experienced insecurity over. "I was always afraid to show myself on camera without a brow," she told Allure in an interview regarding the launch. "But it turns out people really loved that I had no brows. There's a lot of people who felt just as insecure about not having much brow hair."
Me, revealing my new bomb-ass brows to the world after using Desi's kit:
The limited-edition Bomb-Ass Brows! By Desi Perkins kit is available now on the Benefit Cosmetics website, and will hit Sephora.com and Ulta.com on December 4. For anyone who needs to swatch to determine which of the five shades will suit their brows best, the sets hit shelves in both stores on December 7.