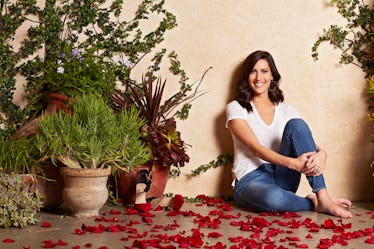 'The Bachelorette' Is Actually About Celebrating Singlehood Before Settling Down
ABC
Bachelor Nation, it's almost time. After spending weeks watching 28 men (Wills! Jason! Joe the Grocer!) vie for Becca Kufrin's heart, we're about to find out whether she's engaged to Garrett Yrigoyen or Blake Horstmann. Because isn't that why we watch every Monday? Since The Bachelor franchise debuted in 2002, viewers have tuned in to see each season's star walk away engaged. They want to see a happily-ever-after. They want to believe they, too, can find love in a hopeless place. But up until the final rose, The Bachelor and The Bachelorette celebrate singlehood, not getting engaged.
It sounds intense, but there are shows that prioritize a proposal far more than The Bachelor and Bachelorette do. You can expedite the courting process on ABC's The Proposal, in which one eligible man or woman whittles down 10 contestants and gets engaged by the end of the hour-long episode. Or skip dating altogether with Lifetime's Married at First Sight, in which the title speaks for itself.
But unlike The Proposal and Married at First Sight, The Bachelor and Bachelorette gives contestants a little bit more time to date and get to know each other. Though getting engaged to someone you've only known for eight weeks used to feel quick, celebrities like Ariana Grande, Justin Bieber, and Nick Jonas are making it the new norm. The show's lead may be initially drawn to their future fiancé — the past three Bachelorettes are still engaged to the guy who received the first impression rose — but they don't send everyone home immediately. In this season, Kufrin focused on herself and embodied the ultimate, unattached bachelorette.
"After having the heartbreak with Arie [Luyendyk Jr., her fiancé from the past season of The Bachelor], it's natural that she would question herself, who she's attracted to, and how she makes decisions when dating," says Samantha Daniels, dating expert and founder of Samantha's Table Matchmaking. "She went back to square one so she can find who she is and who works with her."
Kufrin spent time with her suitors, asked tough questions, and had some serious makeout sessions — all guilt-free. She dated an eclectic group of contestants, from nice-guy Blake Horstmann, to adventurous Leo Dottavio, to, erm, unique Jordan Kimball. She let her walls down and allowed herself to develop feelings for multiple guys at the same time.
It also doesn't hurt that Kufrin went on dates romantic comedies are made of. No awkward dinners or Netflix and chilling here: Kufrin bobsled in Park City, rafted down a river in Thailand, and danced alongside the Baha Men in the Bahamas. She traveled to new places, learned about different cultures, and had fun. She was living her best life — the guys were just a nice bonus.
She was living her best life — the guys were just a nice bonus.
The now-engaged bachelorette did end up selecting one guy. However, the rest of the season wasn't purely for ratings; it was for Kufrin to learn about herself and what she's looking for in a partner.
"[Dating multiple people] gives you the opportunity to figure out what you genuinely like and who you are," says Dr. Hersha Diaz, clinical psychologist. "It's a good process for self-discovery."
Sure, Kufrin had a daunting 28 suitors to choose from, but her process of whittling them down isn't that different from how you date off-camera.
"Most people are dating multiple people, especially if you're meeting people on dating apps," Diaz explains. "It's pretty much the new normal."
And, as it turns out, dating around has its perks.
"Dating multiple people keeps you rational," says Daniels. "If you're only focusing on one person, you're thinking about them all the time. When you're seeing other people, it help keeps things in perspective."
If you want to settle down with one person, Diaz adds dating multiple people can help you weed out people who aren't right for you.
"When dating one person, we tend to convince ourselves they have more of the traits we're looking for than they really do," she explains. "Dating multiple people takes the pressure off. You can process how you feel about certain people."
But as Kufrin's said this entire season, honesty is the best policy — especially when you're dating multiple people.
"You shouldn't feel guilty about dating multiple people, but you should be very honest or else you can hurt someone's feelings," Diaz warns. "[Honesty] can actually lay the groundwork for a really healthy relationship."
Above all, remember that dating offers you the chance to learn more about your own values.
"Look at dating as an opportunity for growth and self-discovery," Diaz recommends.
Who's ready to do the damn thing?
Check out the entire Gen Why series and other videos on Facebook and the Bustle app across Apple TV, Roku, and Amazon Fire TV.
Check out the "Best of Elite Daily" stream in the Bustle App for more stories just like this!