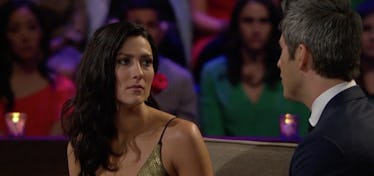 Arie & Becca Reunited After Their Awful 'Bachelor' Breakup & OMG, It Was So Intense
ABC
After that brutal hour of their unedited breakup during Part 1 of The Bachelor finale, Becca and Arie's reunion on "After the Final Rose" was never going to be pretty. Discussing with your ex about what went wrong in your relationship is always awkward to do on live TV, but these two's interactions hit a new level of uncomfortable on the last half of the season finale. Arie and Becca reunited on "After the Final Rose," and I would now be more than content to never see Arie on TV again.
Sitting as separately as you could on the onstage couch, Arie and Becca needed the facilitation from Chris Harrison to begin the conversation. It may have taken the pair a second to warm up, but what proceeded after was a fairly low-key discussion that didn't really make Arie look any better.
Arie touched upon the guilt and shame that the decision brought him, and emphasized the other contestants' / Becca's squad hope that Becca knew the incident was his fault, not hers. Repeating much of what she shared in her interview with PEOPLE, Becca emphasized that she wished Arie would have been more honest about his mindset in the early days of their relationship.
As the other women clarified, Arie had reached out to Lauren before officially ending things with Becca, securing his chances of having a relationship to fall back on. In her PEOPLE interview, she even spilled that Arie began liking Lauren's Instagram pictures when he was still with Becca.
Through her carefully thought-out questioning, Becca managed to help Arie admit that he regretted proposing to her. If I was in her shoes, I'd probably be a mess at this point, but she seemed to expect his answer, emphasizing that Becca has probably had more than enough time to mentally prepare for this meeting.
Arie's confession that he proceeded through their engagement halfheartedly led to him admitting that he felt pressured by the Bachelor timeline to propose. Guys, I know a proposal is great for ratings, but happy couples can emerge from this show without getting engaged after eight weeks together.
Proving that I clearly need some more Midwestern morals in my life, Becca officially forgave Arie for his decision. Speaking to the room, she said, "The entire situation is hard, but you learn from everything, and it just adds to my story."
Back in the day, in his PEOPLE blog about fantasy suite dates, Arie opened up about what a great girl Becca is...
Being around Becca was always so easy. Though we hit some rough patches earlier, whenever we had time alone things were progressing. When we told each other that we loved each other, it felt like we had finally totally bridged the distance between us that had formed part-way thru the journey. I had so much hope for a potential future with her.
...such a great girl, that she's officially got the whole country rallied behind her as our next Bachelorette! The room seemingly exploded when Chris Harrison made the announcement that Becca Kufrin will be the lead lady for Season 14.
At the very end of tonight's "After The Final Rose," Becca Kufrin was announced as the next Bachelorette and she met three of her own contestants. It was an incredible turn of events that proved Becca's clearly the type of woman who can get knocked off a horse and get right back on. (Literally, one contestant brought a horse and used that very line.)
Becca Kufrin's season of The Bachelorette airs on May 28, and I'm definitely ready to see her fall in love again!