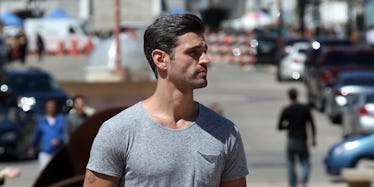 Is Peter Single After 'The Bachelorette'? Here's What We Know
ABC/George Burns
Warning: This post contains the BIGGEST SPOILER for The Bachelorette finale. After Monday night's three-hour Bachelorette finale, fans on #TeamPeter are understandably disappointed. It's official: Rachel Lindsay kicked our precious Peter to the curb. It was pretty much the most dramatic, most painful breakup I've ever witnessed on this show. But there's a potential silver lining to this ending, a ray of hope that all depends on one vital question: Is Peter single after The Bachelorette?
Unfortunately, it's hard to answer that question with certainty at this point, HOWEVER, there is some evidence to peruse, that may suggest that yes, Peter Kraus is currently single.
There's no romance on his social media.
A quick scroll through Peter's Instagram doesn't seem to show a special someone in his life... but even though Rachel technically dumped Peter months ago, all the contestants are sworn to secrecy until the finale airs. So, it's not like Peter would be posting selfies of him and his girl on Instagram, even if he was dating someone.
He might be the next Bachelor. 
There's also the matter of the next Bachelor pick. Rumor has it that Peter is vying for to be the next Bachelor, and in fact, might not have even wanted to win The Bachelorette in the first place. It's apparently been a dream of his, ever since he was an 18-year-old kid, to be on The Bachelor. We know this because someone uncovered his high school year book:
Now you can't exactly be the next Bachelor if you've got a serious girlfriend, now can you?
He's got a brand to promote.
According to his Insta, Peter has been all about his "workout boot camp" that he's sponsoring in his hometown, Madison, WI. Not saying you can't date someone and promote your brand, but I just think it might be a little easier to get people interested in your boot camp when you're a single, trendy heartthrob.
So is Peter single? I'm thinking yes. While it's likely Peter's had a few flings since Rachel (because surely he's had opportunities to), my guess is he's probably keeping his options open in case ABC comes a-calling.