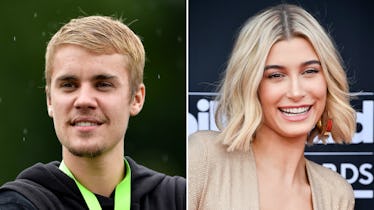 Justin Bieber Confirmed His Engagement To Hailey Baldwin & OMG It's All Real
Stuart Franklin/Getty Images Sport/Getty Images. // Frazer Harrison/Getty Images Entertainment/Getty Images
It's not official until it's on Instagram, am I right? After news that Justin Bieber and Hailey Baldwin reportedly got engaged, I kept refreshing my feed for confirmation that the reports were true (and I'm guessing I wasn't alone), maybe a cute selfie of Bieber and Baldwin on the beach with a close-up of the ring and a long winded message about how perfect their love is? And oh man was I ever rewarded, because Justin Bieber & Hailey Baldwin confirmed their engagement on Instagram and it's all real, you guys.
TMZ reported, according to eyewitnesses who claimed to be on the scene, Bieber proposed to Baldwin on Saturday, July 7, while the couple was vacationing in the Bahamas. Sources said that first the security detail asked everyone to put their phones away (to keep something special and top secret on the DL obvs), and then Bieber proceeded to pop the question.
And now they're apparently making it public. On Monday July 9, the Biebs posted to Insta, calling Baldwin the "love of his life," and I can't handle this.
He wrote in part,
You are the love of my life Hailey Baldwin and I wouldn't want to spend it with anybody else. You make me so much better and we compliment eachother so well!! Can't wait for the best season of life yet!. It's funny because now with you everything seems to make sense! The thing I am most excited for is that my little brother and sister get to see another healthy stable marriage and look for the same!!!
I really needed some sort of confirmation from either Baldwin or Bieber, because I had a hard time wrapping my head around their reported surprise engagement (BTW, what's with all these celebs suddenly getting engaged after dating for a hot second, you know who you are). Like, where did it come from? I thought they were "just friends?"
The couple did date briefly in 2014 before deciding that they worked better as friends. In a May interview with The Times, Baldwin even said that she and Bieber are good friends and it works better that way. She said,
I'd never been through a high-profile relationship like that. But it brought both of us to the realisation that we just work much better as friends. He's somebody I really cherish. Now it's a very mature situation. It's good.
Which I guess explained all the posts and times they were spotted together, but then cut to July 7, 2018, and they're engaged. Tell me if I'm wrong, but I'm thinking that those "just friends" hangouts and Instagrams weren't so "friendly."
Even after Jailey was no more, Bieber's Instagram still looked a little Baldwin heavy there for a moment. But, Bieber assured everyone that he was single and they were just friends with a December 2014 photo on his Instagram of the two riding in a car. "People are crazy. I'm super single and this is my good friend u would know otherwise," the caption read.
Then in January 2016, Bieber brought Baldwin back into the fold with this very "friendly" Instagram of him staring at her chest. No caption.
After that, fans were on the constant look out, but then Bieber and Selena Gomez decided to rekindle the flames of their young love last year, and so people kind of forgot about Baldwin. But rumors that the "friends" were back together started to resurface after Bieber just couldn't help it and posted a June photo of himself kneeling in a park with a woman next to him, who can only be seen from the waist down. That's innocent enough, except for the fact that according to Harper's Bazaar, on the same day, Bieber was spotted kissing Baldwin in the park — and she was wearing the same floral dress as the woman in Bieber's photo. You do the math. Although, I guess after some public PDA, he wasn't worried too much about a photo with a woman's head out of frame.
I guess what I'm saying is that it might seem like a quick engagement, but the couple have been together for a while. Well, at least since March which is when we stopped seeing Bieber and Gomez cuddling up to each other. So not a long while. But, it's Bieber and roller coaster relationships are kind of his schtick, so we'll see what happens. In the meantime, you can find me Instagram stalking six degrees of Justin Bieber. Byeeee.