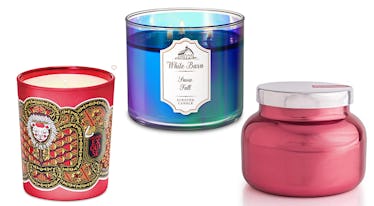 The 9 Holiday Candles You Need To Get You Through The Holiday Season, No Matter What Mood You're In
Diptyque; Bath & Body Works; Capri Blue
Nothing, I repeat, nothing feels more holiday-appropriate than a night in spent watching Christmas movies with the fireplace crackling and glowing. On the real, though, I live in a teeny-tiny New York City apartment with no such fireplace in sight, so I have to rely on festive candles to get me through the season. In case anyone else out there is looking to channel these winter wonderland vibes sans-fireplace — or, if you're simply a candle-lover looking for some seasonal picks to stock up on — allow me to wax poetic about the nine holiday candles I absolutely cannot get enough of. With December right around the corner, the holiday season has just begun, but I've already managed to burn through half of my faves mentioned below, because they're just that good, and I really couldn't resist.
First up on my list is the candle I'm most upset to have already finished burning: the ultimate pick for sugar-and-spice lovers, the Sprinkles x Skylar Vanilla Triple Cinnamon Candle ($38, skylar.com). As a die-hard fan of Sprinkles cupcakes, I admit it's hard not to get a little hungry when sniffing this candle, thanks to notes of vanilla bean, island nutmeg, and cinnamon bark meant to channel the brand's Vanilla and Triple Cinnamon cupcakes flavors. Besides the enticingly sweet smell, another reason to buy this candle is that 10 percent of profits are donated to Step Up, a non-profit that helps women.
Maybe sweet isn't your thing, and you're looking for something a bit more chill? It doesn't get more cool-girl than the Chillhouse Palo Santo & Chill Candle ($52, chillhouse.com), a hand-poured soy wax candle with notes of palo santo, cedarwood, and citrus. The warm, cozy scent is perfect for a winter night in, and the minimalistically chic white packaging will compliment various types of room decor. (And Instagram flatlays.)
If we're really talking holiday candles, it would be unrealistic for me to not include at least one Bath & Body Works pick, considering I have at least three burning at all times. One of their more unique seasonal scents is the White Barn 3-Wick Candle in "Snow Fall" ($25, bathandbodyworks.com), which features notes of cool pine needles, golden amber, and fresh lavender. I'm also obsessed with the blue, purple, and green oil slick-style component, which is somehow both edgy and festive. No complaints here.
However, if we're talking stunning packaging, the diptyque Paris Exquisite Almond Candle ($72, diptyqueparis.com) is in a league of its own. The brand's holiday collection, designed by artist and designer Pierre Marie, features some seriously stunning components that make these babies the ultimate holiday hostess gift by default. This particular scent has notes of almond and tonka bean, and the scent is as exquisite as the name implies.
On the complete opposite end of the spectrum, the Rosy Rings Petite Collection Oval Botanical Candle in "Winter Rose & Pine" ($31, rosyrings.com) features absolutely no packaging, and instead has botanical ingredients visible within the wax that make it double as decor. This particular woody scent has notes of icy lime, juniper berry, pine cone, snowy peony, winter rose, fir balsam, frozen birch, cedarwood, and frosted amber, and the candle features real birch twigs, Hawthorn berries, pine needles, and roses within the wax. Raw, stunning, and and the perfect centerpiece for your next holiday party.
COPPER+CRANE are a luxe skincare and spa brand, and their candles are some of my favorites in the game. Memories of Majorca is my personal go-to, but their Viennese Woodlands Candle ($45, copperandcrane.com) is so, so right for a cold winter night. With notes of fir, cedar, juniper, pine and balsam, it's a great option to have burning while you trim the tree and decorate for the season.
Quick question for you: Is everything better when it's pink? The answer is yes, which is why I'll be ignoring all traditional peppermint candles in favor of the Capri Blue Pink Peppermint Metallic Pink Signature Jar ($30, capriblue.com). This candle looks like a metallic pink ornament, and its notes of vanilla peppermint and cashmere musk make it stand out in a crowd of evergreen winter scents.
If you're stuck on the perfect candle to gift someone with, I have personally gifted the NEST Fragrances Holiday Classic Candle ($42, nestfragrances.com) time and time again, and it has never failed me. It's a universally loved scent with notes of pomegranate, Mandarin orange, pine, cloves and cinnamon, vanilla, and amber. When you imagine a "Christmas-y candle" in your head, I almost guarantee this is the smell that comes to mind.
The limited-edition red holiday packaging quickly sold out, but I still think the Boy Smells REDHEAD Candle ($29, boysmells.com) deserves props as one of the most unique holiday candles on the market. With notes of frankincense, saffron, redwood, poppy, and pomelo, it's a rich, exotic scent that's unlike a traditional winter candle — in the best way possible.
The best part about this lineup? No two candles are alike, so you can totally justify buying them all. Every day of the holiday season brings new events and emotions, and it's only appropriate to have a different candle to suit them all! BTW, if you're wondering what to get me this year and it's not already obvious, I'll take a candle, please and thank you.