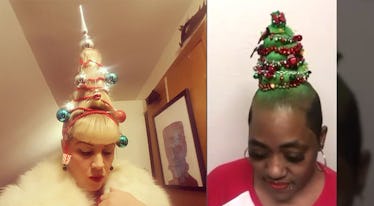 The Christmas Tree Hair Trend Is Back & Better Than Ever This Holiday Season, So Grab Some Hairspray
miss_sweetfeet/Instagram; tacoyjarmaine/Instagram
Believe me when I say, while I don't have a closet full of ugly Christmas sweaters, I do love some good old-fashioned cheesy holiday attire. So when a friend sent me a link regarding the Christmas tree hair trend, I was more than impressed with how some long-haired ladies were using their locks to get in the holiday spirit. In fact, I was totally jealous, as my layered hair could never pull off an updo this intense. If you're not sure exactly what this yearly trend I'm referring to is, then I'm thrilled — nay, honored — to give you a first look at what should be a mandatory holiday hairdo for us all.
Prior to seeing this trend, I might've deemed a festive red bow or a spritz of glitter hair spray as "festive" as holiday hair could get, and boy, was I wrong. Many stylists and hair enthusists much more creative than I have managed to craft literal Christmas trees using only their strands and some baubles for decor, and I'm fascinated, envious, and totally impressed. The hashtag "#christmastreehair" currently boasts 2,388 posts on Instagram, and as December rolls around, I have a feeling that number is about to climb even higher.
Instagram user @miss_sweetfeet has one of my favorite Christmas tree updos of all time, featuring blonde locks swept up and wrapped in red pom-pom garland accented with ornaments. Bonus points awarded for the perfectly coiffed bangs:
And special shout out to user @tacoyjarmaine, who crafted a tree featuring real flashing Christmas lights and an evergreen hue:
How is this gravity-defying hairdo even possible, you might be wondering? For some, a tight, thick braid created atop the head and coiled upwards is enough; others claim water bottles, cardboard cones, and smiliar structures were key in getting that authentic tree height and shape, with hair then wrapped around the structure and secured. No two trees are crafted or adorned totally alike, but one thing is for sure: hairspray is a key player in keeping the styles in place. If you're looking for an extra-strong hold formula to try this look at home, I recommend the UNITE SESSION-MAX Spray ($30, shop.unitehair.com) to ensure your tree stands tall and proud.
I know not everyone can go green just to impress the rest of the attendees at the holiday party, but I must say, green locks really add to the overall effect, as seen in this post via @pouthairsalon:
If your hair is light enough to dye sans-bleach, you can try out the Splat 1 Wash No Bleach Hair Color Kit ($6, ulta.com) in shade "Eclectic Green." The formula is water-based, so the tint shouldn't last longer than you want it to, but if the idea of dye scares you too much too consider, you can opt for the Good Dye Young Poser Paste Temporary Hair Makeup ($18, sephora.com) in shade "Kowabunga Green."
As for accessories? If your hair is strong enough to withhold ornaments, then go bananas, but if dangling glass balls above your head seems a touch daunting, some gorgeous garnish and tinsel will get the job done just as well. If your balance is really impressive, I'd even recommend a star on top.