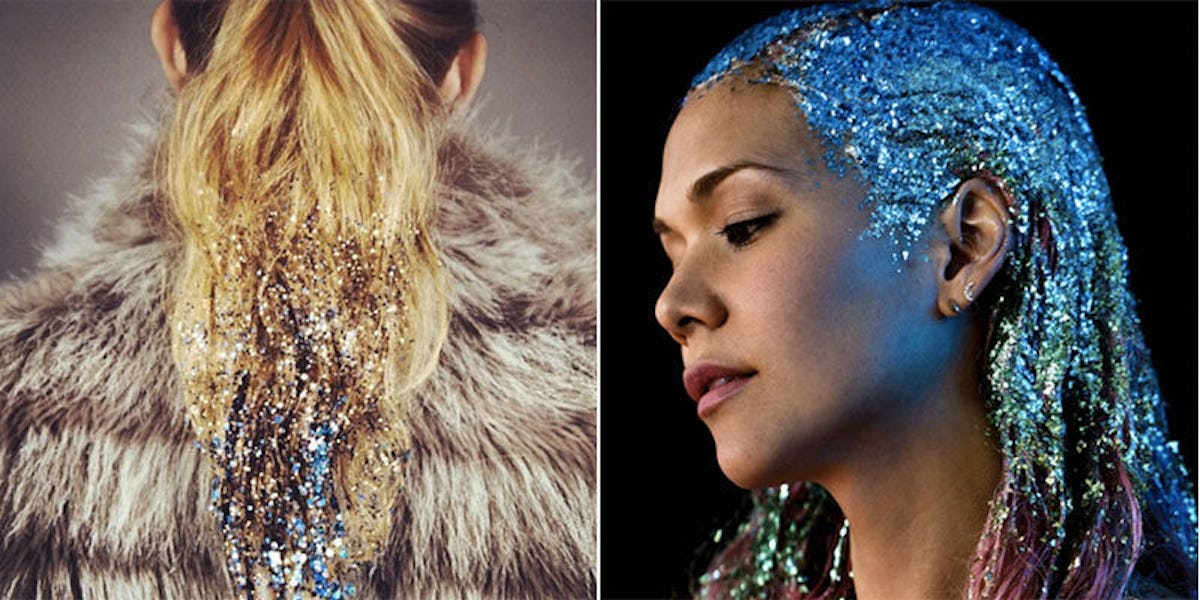 Hair Glitter Will Give Your Locks The Sparkle They Need For The Holidays (Photos)
Between sequin ensembles and shimmery makeup, it's no secret the holiday season is all about glitz and glam.
If you've been looking for some creative ways to add a little sparkle to your style, you'll be glad to know we just found a new beauty craze to brighten up your beauty routine and give you some serious #GlitterGoals.
Remember when we showed you those awesome glitter roots last week?
Well, if you thought glitter roots were pretty awesome, you might want to pay attention.
It turns out you can now take this twinkling trend from root to tip.
That's right. Glitter hair is the newest fad filling up Instagram feeds, and now, lots of ladies are going beyond the dazzling roots and decking out their hair in all sorts of colorful sparkles.
This eye-catching style looks absolutely gorgeous, and topping your head with tinsel is pretty much guaranteed to make you shine brighter than the star on the top of a holiday tree.
Take a peek at the pictures below to see this glitzy look.
If you thought glitter roots were the best thing to ever happen to hairstyles...
...you clearly haven't seen the holiday season's newest hair fad.
Now you can go to new lengths with your glitter obsession...
...since glitter hair is a real thing.
Glitter hair lets you add some sparkle to your locks...
...and the result looks out of this world!
Now, lots of ladies are falling head over heels for this fabulous hairstyle.
Even celebs are going Gaga over this glam look.
There's no wrong way to get in on the sparkly hair action.
You can swirl some silver into your strands...
Add some tinsel to your tress...
Make your braids look brilliant...
Brighten up the underside of your bun...
Dip your 'do in some dazzling colors...
Add some glitter to your granny hair...
...or make your mermaid hair look even more mesmerizing.
No matter what style you choose, your shimmering hair is guaranteed to turn heads.
Citations: The 7 Best Hair Glitters To Make Your Holiday Tresses Sparkle (Bustle)