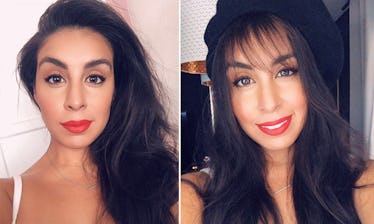 How To Fake Bangs With Long Hair If Commitment Isn't Really Your *Thang*
Stephanie Montes
I've mentioned before how I am actually pretty boring with my hair. I've never colored it all at once — I got highlights once and they eventually grew out into a natural-looking ombre. When I get a haircut, I usually tell my stylist to be careful not to cut off too much. But that doesn't mean I don't think about trying something new. So, I found out how to fake bangs with long hair because I'm too scared to commit to an actual cut. Who is with me?!
For one, I feel like I keep seeing the French-girl bang trend. You know the type: Eyebrow grazing, piece-y, slightly split down the middle, and not too neat. These are the exact bangs that will be huge this fall and I live for a good trend. Even though I don't have the ovaries to actually have a stylist carve them into my long hair, I refuse to accept the fact that I can't try the trend for myself. I bet you're wondering how this is actually possible, right?
Over the years I've learned ways to get creative with my single-length, virgin hair, including faking trendy haircuts. I once even tricked everyone around me into thinking that I got a short bob. If you're like me and are too afraid to make any drastic changes, but you still crave a trendy fringe, here's how I faked those French-girl bangs that I love so much.
Before
I start by brushing my hair out and creating a center part. Its been a couple of days since I last washed it, but I think this just adds to that French-girl je ne sais quoi. Now, I grab a section about three inches long and two inches thick from the top of my head around the crown and twist it into a bun. I have a clever way of hiding this, but still try to keep your twist as flat as possible. Twist until you have about five inches or so hanging from your bun. (If you have shorter hair, you can position the bun closer to your hairline).
Now that you have a section of hair hanging from the top of your head, fan out your ends and style them as if they were real bangs, then use a bobby pin close to your hairline to hold them in position. Using a round brush and a blowdryer, or a large curling iron, give your ends a bend like you would if you had bangs IRL. Finally, comb through your faux bangs and the rest of your hair to blend the two together. Use a texturizing spray or hairspray to style as needed.
So, I know you still have an awkward bun sitting at the top of your head — I have a stylish way to hide it! Throw on a French-girl beret (which, by the way is going to be a big trend this fall) and voila! Now you can feel French AF, without having to commit to bangs — because let's be real, it's possible you might hate them.