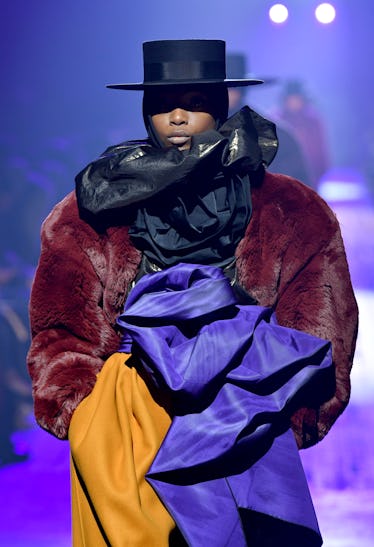 Forget About That Expensive Salon Appointment & Splurge On These Strong Fall Hat Trends Instead
Slaven Vlasic/Getty Images Entertainment/Getty Images
I've never been a hat person. Baseball caps always seemed to look unnatural on my decidedly non-sports inclined self, while I find the care that a nice brimmed hat requires to be way too much responsibility. (Hence my succulent garden.) But after looking through the fall 2018 hat trends, I'm surprised to announce that I'm singing a different tune in regard to headgear this season. I want hats, and I want a lot of them.
Whether you're into relatively regular hats like classic knit beanies and Italian-inspired black brimmed hats or prefer to go for styles that are a bit gutsier like berets or balaclavas (by gutsy I mean straight up fearless in this case), you'll find something you like for fall. Take a look at the top six hat trends for fall and decide what kind of headspace you want to be in this season.
Knit Beanies
This hat style is as classic as they come. Knit beanies in all colors and patterns walked the runways of brands including Missoni, Etro, and Michael Kors, while Anna Sui and Dolce & Gabbana took it one step further and added pom pom ears and animal faces to their adorable versions. IF you're looking for a practical and warm option, this is it.
Berets
Mais oui! Berets are definitely in this season and you don't need to know a lick of French to rock them. Sonia Rykiel, Versace, and Rejina Pyo all sent the classic lopsided topper down their runways, proving the style has truly gone international. If the trend intimidates you, start off with a plain black one and move towards plaid and other fun prints from there.
Balaclavas
Are there any other skiiers or snowboarders in the house? Because all I can think of is when I used to wear something similar to a balaclava on the slopes, except it was way uglier than the iterations that Chanel, Calvin Klein, and Gucci have created for Fall. Balaclavas have been a bit of a buzzword ever since Rihanna wore a Gucci one to Coachella earlier this year. While seasonally inappropriate then (I would have melted!), balaclavas could totally change the game in terms of surviving New York City winters in style.
Newsboy Caps
Maybe I should try a newsboy cap in lieu of a baseball hat? Dior, Dolce & Gabbana, and Zadig & Voltaire proved that they're once again in style by finishing off a few of their fall looks with the style. They come in an array of fabrics from corduroy to plaid to velvet, so no matter your fall style there's one for you.
Scarves
Yes, just like your grandma used to wear. Scarves of all types, from silky to floral to sheer and everything in between, are the new topper of the moment. Tie them under the chin like at Gucci or at the nape of your neck like at Valentino—whatever feels coolest (and warmest!) to you.
Black Brimmed Hats
Marc Jacobs, Saint Laurent, and Dolce & Gabbana showed a lineup of black brimmed hats that would make Zorro proud. Some are more '80s inspired while other feature brooches. What catches your eye—or doesn't?
Some trends to think on.