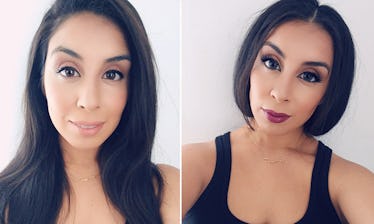 6 Commitment-Free Ways To Change Up Your Look After A Breakup, If You Feel Like It
Stephanie Montes
I'm married and not breaking up (I just had to clarify before I get a call from my husband wondering what's going on). However, if for some reason we ever did separate (again, not happening!), I've imagined I'd have this Eat, Pray, Love moment where I move to Italy and completely reinvent my life. On one hand, starting over is thrilling — on the other hand, skipping town and spending the rest of your days jobless in some exotic country is completely unrealistic. So, instead of emptying your 401(k), try these easy ways to change up your look.
Before I met Jerry (the hubs), I dated and dealt with breakups. Like most girls, my hairstylist was one of the first people I called. I never made any drastic changes, but even a trim and blowout boosted my mood. For me, switching it up was never about looking good to find a new man or to get the old one to come back — it was about making myself feel better. Whether you're going through a breakup, the loss of a job, or you're just bored with your current beauty routine, sometimes you just need to switch things up. Here's how I completely transformed my look — you know, just for fun.
Before
This is me before I switched things up. I'm wearing foundation, I filled in my brows, applied eye shadow, and finished with some blush and nude gloss. I wear eyeliner on my upper lash line every day, but it's rare that I fill in my waterline. I left my hair down and natural. I also usually part it on the right side and swipe it over to the left.
1. Contour
Never underestimate the power of good contouring. You can instantly give your cheekbones a lift, make your nose look skinnier, make your lips look bigger, you name it. Who said plastic surgery is the answer? I went a bit heavier on my contour today for the sake of my transformation. I sculpted my nose and really played up the hallows of me cheeks. I used the Profusion Cosmetics Trendsetter Contour Palette ($13; target.com).
2. Eyeliner
I mentioned how I only wear eyeliner on my upper lash line and never on my waterline. So, I break out my Tarte Skinny SmolderEYES Amazonian Clay Waterproof Liner ($10; tarte.com) and darken my waterline — this alone makes me look different. To take my look up a notch, I completely change the shape of my liquid eyeliner. I'm used to wearing a cat eye, but instead of going straight across and out, I point my wing at an even higher angle on the outer corners. Then, I add a tiny inverted wing on the inner corners of my eyes. This gives my eyes more of a feline shape, rather than the round look I usually have. For a super crisp cat eye, I use IT Cosmetics Superhero Liner ($24; ulta.com).
3. False Lashes
If you've ever wondered why there are so many shapes of eyelashes in the world, it's because every style completely changes the look of your eyes, which changes the look of your entire face. Lashes that are taller in the middle make your eyes look rounder, while ones that wing out on the sides give you a feline look. To play up the shape of my cat eye, I went with Ardell's Accent 002 Magnetic Eyelashes In Black ($12; target.com) and placed them far on the outer corners of my eyes.
4. Colored Contact Lenses
I just recently started playing with colored contact lenses and I can't get over how different they make me look. I slide in these blue contacts I purchased in Tokyo and bam, I feel like a new woman.
5. Bold Lipstick
If you keep your perfect nude lipstick on repeat, go for a bold color. I reached for Bite Beauty's Amuse Bouche Lipstick in Rouge Berry ($26; sephora.com) to completely switch things up. It's just what I needed to finish off my brand new makeup look.
6. Fake A New Hairstyle
I've always been to afraid to commit to a short haircut, but that doesn't mean I don't love the look of a cute bob. Instead of seeing my hairstylist, I pulled my hair into a loose ponytail and beginning at the ends, rolled my hair under and towards the nape of my neck. Once I tucked the bun under, I used bobby pins to hold it in place. And just like that, a fake haircut.
If you already have short hair, play with extensions or wigs (I have wigs on my list of things to try!). Even switching the placement of your part makes a huge difference.
In the end, make sure you're switching up your look for all the right reasons.
You already know to never change for a man (at least, you better know that!), but it's important to know that you never need to change for yourself, either. It's fun to play with new looks, but makeup can be washed off, hair can grow back, and contacts can be removed. What really matters is that you love how you look, with and without all the smoke and mirrors.