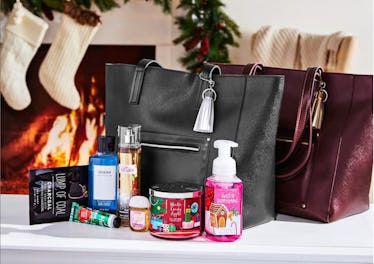 All Of Bath & Body Works Is Buy 3, Get 3 For Black Friday, & That's Not Even Everything
When it comes time to stock up on gifts for friends and loved ones — and also to treat myself and get in the holiday spirit — Bath & Body Works is always one of my go-to spots. I can't imagine a cold December night without one of their wintry candles lit or a Christmas Eve bubble bath not followed by a generous application of one of their pillowy soft body creams. I also love giving these fun, luxe experiences to others, which is why I consider Bath & Body Works' Black Friday 2018 sale the ultimate opportunity to get them the goods for less. Every year, the store goes all out ensuring their loyal customers get the very best deals, and this time around, it's no different, so get ready to flip the switch from Autumnal Candle Mode to Holiday Candle Mode, because we're going in.
If you've already hit up your local Bath & Body Works store once or twice in the past month to sniff out your favorite scents, you're in luck: you can shop right from home before anyone else, as the sale starts earlier online. The deals will begin on the Bath & Body Works website early on Nov. 22, but they won't hit stores until Black Friday, Nov. 23. However, some stores will be opening on Nov. 22 at 6 p.m. and starting the sale on Thanksgiving day, so if you're someone who prefers to shop in-person, make sure you check your local store for the deets so you don't miss out.
Now that we've covered the when and where, let's talk about the "tote-ally amazing" deals:
This year, when shoppers spend over $30 they'll have the option to purchase a cute tote for just $30 more, in either black with silver accents or burgundy with gold accents. Inside the tote are seven of the brand's best-selling products, and the overall gift is valued at $115. Based off the products shown in their Instagram post, it appears that the set includes a Winter Candy Apple 3-Wick Candle, a Twisted Peppermint Gentle Foaming Hand Soap, a Vanilla Bean Noel Hand Cream, an In The Stars Fine Fragrance Mist (the brands ~all new~ fragrance this year), a men's Ocean 2-In-1 Hair + Body Wash, a Champagne Toast PocketBac Hand Sanitizer, and a Lump of Coal Charcoal Sheet Mask With Purifying Charcoal. Truly something for everyone!
Maybe you'd rather hand-pick your products, though? No worries: the entire store will take part in a mix-and-match buy three products, get three free deal. Everything — and I mean everything (body care, home, gift sets, and accessories) — is included.
In addition, the brand is bringing back their Forever Red line, truly a fan-favorite, classic scent, to celebrate the holiday season! FWIW, I remember buying this scent on blind faith because it made me think of Taylor Swift's album Red (I was a fan!) and I ended up loving it and was so sad when it got discontinued. According to BBW, it's still their most requested body care fragrance, so they're blessing us all and bringing it back with a Forever Red flash sale for $4.95 until 9 a.m. on Friday, Nov. 23.
Finally, on Black Friday only, customers can combine coupons in one transaction, which is a major no-no during the rest of the year. According to a rep for the brand, as long as you qualify for each coupon, there is no limit to "dollar off" or "free item" offers that can be applied to your transaction.
Oh, and BTW, according to their Instagram, BBW just dropped over 60 new products, so if you think you already know what you want, chances are you'll find even more to love this week:
The sale hasn't even begun, and I'm already embarrassed at the amount of candles I'm guaranteed to buy. What can I say, I can't resist! Bath & Body Works and their epic sales get me every single time.