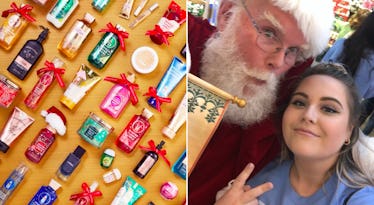 I Got An Inside Look At Bath & Body Works' Full Holiday Collection & Here Are The 40 Picks You NEED
Bath & Body Works // Theresa Massony
Do you ever just wish it was Christmas all the time? That every morning commute to work was filled with crisp wind and the smell of balsam and peppermint? That every single day felt like the gift that keeps on giving? Well, unfortunately, we can't all live in the aforementioned utopian dreamland, but, there is one beacon of light in reality lending to this fantasy: Bath & Body Works' 2018 Holiday Collection, come to make our days merry and bright well before the actual holidays.
Yes, you heard me correctly. On Monday, Oct. 29, the bath and body care giant rolled out the entirety of its 2018 holiday collection, and I'm truly at a loss for words because I can't even conceive how to give this collection the praise it deserves. From bringing back fan-favorite scents and products that no real BBW fan can live without to unveiling a brand new fragrance guaranteed to have you seeing stars, BBW has undoubtedly taken all our favorite parts of the holiday and packaged them into the perfect, sweet-smelling holiday gifts. Even better, I was blessed enough to experience the brand's winter wonderland of body care and gifting IRL, and I'm here to tell you, yes, it's that good.
Read on below for what are, in my opinion, the best picks from Bath & Body Works' 2018 Holiday Collection, but know this list is nowhere near exhaustive of the full lineup.
BODY CARE
If there's one brand in this world who cares about your body as much as you and, like, your mom do, it's Bath & Body Works. Bible. Coming at you with a truly mind-boggling host of delectable seasonal fragrances, the brand is ensuring that both your skin and the skin of everyone you love is soft, smooth, and nourished.
Whether you're a diehard fan of BBW's fine fragrance mists infused with aloe, you stan their ultra-moisturizing body creams and body lotions, or you're a sweet-smelling shower gel kind of girl, there's a festive, holiday scent here for you to get you in the mood.
~Christmas Fragrances~
Vanilla Bean Noel Body Lotion
After using this lotion on my own body, I can confidently say that dry winter air is no match for this formula. Even more, prepare for no one being able to resist the sweet smell and smooth feel of your skin after using.
Winter Candy Apple Body Cream
Twenty-four hours of extremely moisturized skin thanks to super nourishing shea butter? Count me TF in.
Twisted Peppermint Shower Gel
Is there anything better than the smell of peppermint enveloping you in a luscious lather as the steam of a hot shower cleanses you of your sins (or, you know, dirt — sorry, got carried away there)? No, there's not. Don't even @ me.
~Winter Fragrances~
Snowy Morning Body Cream
Not to be dramatic, but for me, it was love at first smell when it came to this scent. After essentially slather every inch of my epidermis with this balsam-, lavender-, and juniper-infused cream, I was ready to put a ring on it.
Snowflakes & Cashmere Fine Fragrance Mist
If you love dousing yourself in a warm, inviting fragrance during the winter, then allow me to introduce you to Snowflakes & Cashmere, a woody amber scent that's about to be your new best friend.
Sparkling Nights Glow Dust Scrub
This scrub not only exfoliates the skin, but it leaves behind a subtle shimmer. That said, this one's for all the babes out there who are looking to glow-up under the streetlights as the snow falls.
IN THE STARS
Making its debut into the extensive collection of fragrances is BBW's newest beauty, "In The Stars." A warm, captivating scent with notes of starflower, sweet and spicy white agarwood, and sandalwood, I speak from experience when I say wearing this fragrance feels like you're floating amongst the stars.
Eau de Parfum
Elegantly packaged in glowing gold, the In The Stars Eau de Parfum will tempt you to spritz and spritz to your heart's content.
Celestial Scrub
Expect this scrub to gently slough off dead skin and leave you with all-over radiance and a natural glow.
CANDLES
OK, OK, enough anticipation. Let's get to the real star of the show here in everyone's minds: the candles. As if we all didn't already have enough BBW 3-Wicks scattered amongst our dwellings, the holiday candle collection will convince you to buy one or two (or 18) more to complete your sacrificial altar in hopes of pleasing the BBW holiday gods who bestowed this bountiful collection upon you.
A word to the wise: While the 3-Wick candles are regularly $24.50, they're currently on sale for $12.95. You didn't hear it from me... *wink wink*.
~Christmas Fragrances~
Fresh Balsam
If my entire house doesn't smell like a Christmas tree starting the minute Halloween ends, then I'm sorry to say it, but Christmas is canceled.
Peppermint Brownie
This candle may or may not make you nostalgic for Girl Scout Cookie season and all the Thin Mints you've eaten before.
Frosted Cranberry
With cranberry and apple notes, as well as a hint of wood, the Frosted Cranberry candle is so sweet and enticing, you'll burn through it faster than you can say, "Goddamn this smells so effing good."
~Winter Fragrances~
Fresh Sparkling Snow
Not living in a place where it snows regularly doesn't mean you can't fill your house with the same sensation.
Arctic Berry
I'm a drama queen when it comes to the cold, but I'd be outside all the time if it smelled like Arctic Berry. Instead, however, you'll just find me inside huddled around this candle, which is arguably the next best thing.
Sweater Weather
No cold-weather collection from BBW would be complete without the ultra fresh-smelling Sweater Weather, now would it? This candle literally smells like a big hug feels — could you want anything more?
~White Barn Collection~
Fireside
This candle truly brought my love for the woody, earthy scent of a crackling fire to the next level. It's not so strong that you're overwhelmed by a burnt scent, but powerful enough that is feels like you're lounging by a cozy fire.
Snow Fall
Not to be dramatic yet again, but please believe me when I say I would probably die for this candle. It's literally my favorite one in the whole collection. With notes of pine needle, amber, and lavender, this candle fills a room with the most delicious smell, not to mention the holographic design is incredibly on-trend.
Mahogany Balsam
I know balsam isn't for everyone, but 1) the balsam scent in this particular candle is far from overwhelming, and 2) you need this candle in your life. Notes of berry balance out the woody side, making this guy equal parts sweet and warm.
HAND SOAP
You may not give hand soap a second thought as you lather up before leaving the bathroom, but with these picks, you'll probably end up never leaving your bathroom because you'll be stuck in there smelling and feeling your hands. That's weird, but you get it, right?
Spiced Gingerbread Hand Soap
I never knew I needed my hands to smell like a fresh gingerbread cookie, but here we are.
Marshmallow Flurries
Picture this: a warm, jovial gathering with friends, huddled around a fireplace, topping off each other's glasses of wine, and roasting marshmallows as the snow sprinkles outside. That's what this soap smells like, IMHO.
SIGNATURE COLLECTION
Yes, we all love seasonal scents, but that doesn't mean BBW's Signature Collection of year-round fragrances deserve any less love this time of year! Not to mention, every item in the Signature Collection still makes the perfect gift for someone who wants to use it month after month. (Because yes, unfortunately, the holidays do have to end.)
Magic In The Air Super Soft Body Butter
Slather this all over once you towel off after a shower, and tell me you don't smell the magic in the air (or, well, the notes of almond, iris, and vanilla on your skin). You can thank me later.
Lovely Dreamer Exfoliating White Clay Body Scrub
You're gonna have to hold yourself back from scrubbing too much once you get a whiff of the woody, musky, bergamot-infused scent that is Lovely Dreamer.
Warm Vanilla Sugar Moisturizing Body Wash
Who can resist BBW's classic Warm Vanilla Sugar scent? When your sweet tooth comes knocking, pamper yourself in the shower with this body wash to get your fix.
Moonlight Path Fine Fragrance Mist
If you didn't almost drown yourself in the Moonlight Path Fragrance Mist growing up, did you really even Bath & Body Works? The correct answer is no. Lucky for all of us who did, this scent still smells just as good.
AROMATHERAPY COLLECTION
If you're a true BBW stan, then I don't have to convince you of how powerful their Aromatherapy Collection truly is. The line is chock-full of classic BBW products, but all are infused with essential oils designed to affect your olfactory senses in different ways for different needs. Whether you need to sleep, to focus, to relax, or to experience a burst of energy, you'll find a way to do it with something in this expansive collection.
Sleep Black Chamomile Body Cream
A brand new scent offering in BBW's Aromatherapy family, the Sleep Black Chamomile Body Cream felt just as good as the sweet dreams I started having as soon as I drifted off to sleep.
Sleep Black Chamomile Nourishing Body Oil
Especially in the winter, you won't believe how beneficial body oil can be for your skin. This blend of chamomile and bergamot essential oils will easily lull you to sleep.
Love Rose & Vanilla Body Lotion
All you need is Love... Rose & Vanilla Body Lotion. All over your body. Right Now.
Stress Relief Eucalyptus & Spearmint Pillow Mist
No matter how tired I am, it seems all my stress comes knocking right as I'm about to go to sleep. A little spritz of this pillow mist, however, and I'm calm, collected, and out like a light.
Energy Orange & Ginger In-Shower Steamer
Look, we don't all have time to casually lounge in the bathtub. Enter: BBW's In-Shower Steamers, which give you all the delectable aroma and relaxation of a bath fizz, without the actual bath.
MEN'S COLLECTION
Ah, men. Can't live with 'em; can't... well, yeah. (Just kidding.) (Kind of.) While I'm a firm advocate that men are just as much able to enjoy the aforementioned fragrances and products as anyone else, that doesn't mean there aren't a few special items for them, too. But if we're being honest, literally everyone (yes, ladies, I see you and I feel you) can find something in BBW's ultra fresh and clean Men's Collection.
Freshwater 2-in-1 Hair & Body Wash
Italian bergamot? Oak moss? Spring water? Bury me in this all-in-one shower product, why dontcha?
Ocean Cologne
Let me tell you, this cologne knows no gender. The blue cypress, vetiver, and coastal air notes are enough to entrance literally anyone into its clutches.
Cypress Ultra Shea Body Cream
Think: gin and tonic, but as a super nourishing, moisturizing cream for your skin.
SKINCARE
You didn't think BBW would do all this hard work to take care of your body and not give you a lil somethin' extra for your face, did you? Just as healthy, renewed, and hydrated as your whole body will be, so will your face with these prime skincare picks.
Pearl Power Illuminating Sheet Mask
It may be winter, but the glow obsession of the summer isn't going anywhere anytime soon. Boost your natural radiance from the comfort of your couch with this illuminating sheet mask. Your future's so bright, it's blinding.
Soothing Hydrogel Mask With Lavender
The days may be getting shorter, but that doesn't mean the skin on our faces is taking any less of a beating in the winter. This soothing hydrogel mask will breathe life back into dry, irritated skin and relax you all the while with its lavender infusion.
Mud Mask With Purifying Charcoal
Are you sick of sheet masks yet? No? Thank God, because this last pick is your new detoxifying, purifying best friend. All the benefits of a quality mud mask, zero messy application.
Water Hyaluronic Acid Body Gel Lotion
I'm sure by now you've caught wind of the hyaluronic acid obsession sweeping beauty lovers everywhere. But it's true: Hyaluronic acid's ultra-moisturizing benefits are worth reaping, especially when dry, cracked skin is creeping upon us.
Water Face & Body Mist
Perfect for those tiny moments of your day when you feel your skin drying up, but you can't exactly slather a cream all over, this Face & Body Mist deeply hydrates your skin and can be applied under or over makeup.
STOCKING STUFFERS
Have you read through everything here and made your picks for what you're wrapping up under the tree? Well, you can't forget about filling stockings. Don't worry, though. BBW has enough small buys that still pack a huge punch — not to mention, score major points with whomever you gift them to.
Sugar Plum Dreams Bath Fizzy
If you are one of those lucky souls who makes time to unwind with a nice bath, allow me to point you toward this Bath Fizzy, guaranteed to fill your water with Christmas cheer.
Iced Gingerbread Hand Cream
Cracked skin on your hand's? I don't know her!!!! Keep these small hand creams in your bag, and you won't know her either.
Holiday Favorites PocketBac Hand Sanitizer 5-Pack
If you say there wasn't a period in your life where you had at least 16 of BBW's hand sanitizers on you at any given moment, I truly don't believe you.
Unicorn Wallflower
This one's for the special unicorn in your life who wants their entire home to smell like a mystical dreamland.
All right. God. That was a lot. Did you survive? I hope you survived. Because now, you're ready to head to Bath & Body Works yourself and get all your holiday shopping done for literally any person you've ever met in your life. What's more? In addition to these individual picks, BBW has gift sets and adorable new gift wrap galore to help you curate and wrap easier than ever.
If I haven't yet convinced you that Bath & Body Works' 2018 Holiday Collection is truly life-changing, then I don't know what to tell you. At this point, I'll just let these mounds of BBW holiday candles on kira kira do the rest of the talking:
Of course, if you're literally dying to see the full collection for yourself, well, I don't blame you one bit. Click here to explore all of BBW's new holiday arrivals.