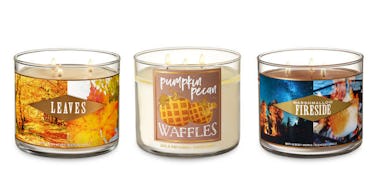 All The Scents In Bath & Body Works' Fall Candle Collection You Didn't Know You Needed
Bath & Body Works
While summer is coming to an end, the good news is that a new season is on the way: fall. Naturally, this means the scents in Bath & Body Works' fall 2018 candle collection are here to get us all ready. And believe me, because there are so many scents for fall, there will definitely be something for just about everyone. Of course, the brand's latest collection is heavily influenced by pumpkin spice, and offers many different variations of the signature scent, but there are also several candles that smell like everything else that comes with fall — from the crisp air to freshly fallen leaves. And if you're a foodie, Bath & Body Works definitely has you covered as well. From pumpkin peanut brittle to caramel apple, these candles may have your house smelling just like a bakery. So if you've been trying to lay off the sweets until Thanksgiving like me, you may want to opt for some of the other scents.
But even though fall won't be here for a little while, the good news is that these candles are all available to purchase online or in-store right now! And if you just can't get enough of these scents, many are also available as foaming hand washes, shower gels, and fragrance mists. So let's bring on the fall scents!
Leaves
Pumpkin Pecan Waffles
Sweater Weather
Caramel Pumpkin Swirl
Cinnamon Spiced Vanilla
Pumpkin Apple
Marshmallow Fireside
Blueberry Maple Pancakes
Vanilla Pumpkin Marshmallow
Apple Cinnamon Cider
Sweet Cinnamon Pumpkin
Caramel Apple
The Perfect Autumn
Pumpkin Cupcake
Autumn
Pumpkin Coconut
Pumpkin Peanut Brittle
Autumn Day
Hot Cocoa & Cream
Bourbon Pumpkin
Flannel
Campfire Pumpkin
Paris Cafe
Harvest Blooms
Pumpkin Patch
Pumpkin Donut Shop
Mahogany Apple
Autumn Woods
Cinnamon Caramel Swirl
Cider Lane
If we're being totally and completely honest here, any and all of these delectable scents are so delicious that they'll make even the biggest summer lovers want to throw on a thick sweater and cozy up near one of these new candles.
In 2017, Bath & Body Works reportedly sold so many candles that the total amount, if laid side-by-side, could travel all the way from Miami to Vancouver, a brand rep told Bustle. So will the retailer be able to meet, or exceed, those numbers again this year? Only time will tell, but with a very loyal customer base, the brand should have no problem knocking this goal outta the park.
But what is it about these candles that gets people so hype? One woman told Bustle that it simply gives her "a sense of comfort," while another explained that "it's like a holiday."
"You can feel it in the air," Joy McDowell, a realtor from Harford County, MD shared with Bustle in January. "I got to my store right before it opened [on Candle Day] and there was another woman there who was waiting for them to lift the gate and she had a dozen donuts for the [sales associates] in one hand, and a stack of coupons and a list of what candles she wanted in the other. It was on."
What can I say? There are a lot of people who are serious about their candles.