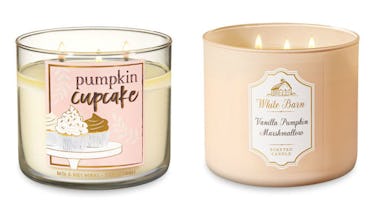 Bath & Body Works' New Fall 2018 Candle Collection Takes Pumpkin Spice To A Whole New Level
Bath & Body Works
If there was ever a time to believe that pumpkin-spice anything is for basic people, it'd be now after you hear about all of the over-the-top scents released in Bath & Body Works' Fall 2018 Candle Collection. From Pumpkin Peanut Brittle to Pumpkin Coconut, the scents released in the new collection are anything but basic and will definitely put all other simple pumpkin-spice candles to shame. The body care and home fragrance retailer's new fall scents for soaps, lotions, and candles, have arrived online and in stores to unofficially mark the beginning of fall. And what's more, everything is already available.
So if you're one of those people who has been sharing memes about how you can't wait for cool autumn weather, hay rides, Pumpkin Spice Lattes, and all things fall — since the beginning of July — then this news will make your day. With new scents released over four new categories, there are plenty of delectable scents to choose from to make your body and your home smell like all of the different fall-related things you didn't even know existed. The latest collection features new scents added to Bath and Body Works' White Barn collection, food-inspired collection, single wick candles, and the Pumpkin Fall candles collection — all in various sizes and starting at $14.50, according to Country Living.
Marshmallow-y Goodness
With Bath & Body Works' Fall 2018 Candle Collection comes newly added scents to the retailer's White Barn collection. The White Barn collection is the more sophisticated category, so naturally, the new scents contain a range of clean, classic notes, like spiced pumpkin, vanilla, caramel, and cloves. I personally can't wait for my apartment to smell like the Vanilla Pumpkin Marshmallow candle.
If you've never smelled a vanilla- and pumpkin-infused marshmallow, then you're likely not alone. However, after getting a whiff of this newly released scent, you'll be happy to have this candle light up your home. With notes of Tahitian Vanilla, Pumpkin Spice, Homemade Marshmallow, and Drizzled Caramel, your living space will smell like the most glorious, fall-inspired latte.
This One's For The Foodies
For all of the foodies out there who prefer to celebrate Autumn with the taste of pumpkin-infused foods, Bath & Body Works' new food-inspired scents will have you feeling like you're living in a bakery with each breath you take this season. The new featured scents include aromas that are sure to make your mouth water, like Pumpkin Cupcake. The three-wick, soy-based wax candle includes notes of whipped buttercream, Madagascar vanilla, pumpkin spice, and freshly baked cupcake that will low-key make you believe you have fresh cupcakes in your oven.
An Apple A Day Keeps The Doctor Away
If you're lighting up a smaller space and need a simple fragrance that isn't overwhelming, the latest scents added to Bath and Body Works' Single Wick collection will give you the fall-scented buzz you need without being overpowering.
This pumpkin apple-scented single-wick candle will have you reminiscing about picking apples and pumpkins from an orchard or a pumpkin patch as a child. The candle contains notes of red delicious apple, fall pumpkin, fresh ground cinnamon, and clove buds and is made with essential oils for ultimate relaxation.
OK, OK, so pumpkin will never actually be basic. Finally, for the pumpkin-loving queens out there who like to enjoy everything with a twist of pumpkin, there are new pumpkin-infused scents added to Bath & Body Works' Pumpkin collection that give the perfect autumn twist to just about any scent.
Whether you live in a tropical location that doesn't get your typical fall weather, or you just appreciate a tropical and fall scent infusion, Bath & Body Works' Pumpkin Coconut three-wick candle contains notes of spiced pumpkin, toasted coconut, creamy vanilla, and sea-salted caramel.
Although I like to think that I still have a handful of beach days left in the summer season, I do appreciate a good fall scent and also happen to link autumn with lighting up a fall-scented Bath & Body Works candle on a Sunday afternoon while watching football from my couch. Looks like I may just have to jump on copping these new fall releases ASAP.