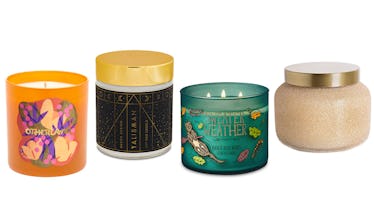 The Only 7 Fall Candles You Need So Your Collection Doesn't Border On Sacrificial Altar
Otherland, Skeem Design, Bath & Body Works, Capri Blue
Grab the nearest match or lighter and get your nose ready, because now that we're officially experiencing fall weather, it's time to unleash the autumnal candles! You heard me right, people, it's #candleszn, and I've got seven fall candles here that are all absolute musts for filling your home with fall scents — plus, they're pretty chic, so they basically double as decor, too. Talk about a win-win, am I right? Even if you don't tend to gravitate towards traditionally autumnal scents, I guarantee there's a candle in this lineup that will pique your interest, not to mention look great on your Instagram feed.
What is it about fall that makes us crave candles so much? There's just something about their warm, campfire-at-home vibes that makes me want to put on a flannel and watch the leaves change colors, you know? But having too many candles can give off major sacrificial altar vibes, if you catch my drift, so it's better to just invest in one or two you love. If you don't yet have a go-to scent, allow me to win you over with some of my favorites.
First up is the Otherland Manor House Weekend Candle in Sun Suede ($36, otherland.com), which is serving some serious pumpkin-orange realness that feels just right, given the season, without being too full-on "stereotypical autumn candle."
Since candles can last for quite some time, you might not want to invest in anything too themed, so this Otherland candle's nod to the season's signature orange shade is just enough. Not to mention the very autumnal scent: the coconut and soy wax blend is fragranced with saffron, pink peppercorn, and white suede, and the luxe scent is inspired by countryside weekends and "harvest brunch spreads," according to the Otherland site. This is without a doubt the Instagram candle of the season, so you heard it here first.
Want something a little more witchy? Halloween is fast approaching, so I totally get that. My pick is the Skeem Design Talisman Soy Candle ($24, skeemshop.com), which isn't actually magic, but is made from an essential oil elixir that claims to preserve the health of those who use it, so it might as well be.
This soy wax candle contains essential oils of clove, cinnamon, eucalyptus, and lemon, which means it has both a natural scent and ~supernatural~ vibes.
Oh wait, you want something even witchier? Ask and you shall receive! With The Chilling Adventures of Sabrina trailers really getting me in the mood for witching hour, it's no surprise that I had to include the Bijou Candles Sabrina Candle ($29, bijoucandles.com) on my list.
Catch me and all my witches enjoying the scent of this candle, which has notes of velvet capes, the full moon, and love spells — which is how Bijou Candles describes this patchouli and bergamot-based fragrance. I can dig it! I just need a Salem candle in a complimentary scent to serve as Sabrina's sidekick, and I'll be good to go.
Until I find said Salem-themed candle, let's jump back to more traditionally autumnal candles, like the show-stopping Rosy Rings Pumpkin Farmhouse Round Botanical Candle ($48, rosyrings.com), which features real maple leaves and pear slices encased within the wax. Seriously, would this not make the most gorgeous statement on your Thanksgiving table? Hard yes.
This one is definitely for those of us who prefer slightly sweeter scents, as it's got notes of fresh pumpkin, creamy vanilla, kitchen spices and brown sugar. Sadly, it's not edible, even though it does sound good enough to eat. All the more reason to include it in your Thanksgiving table centerpiece, am I right?
As someone who identifies as Basic with a capital B, I have to include a Bath & Body Works candle in this roundup, as they should be a staple in every gal's candle collection. The Bath & Body Works Sweater Weather 3-Wick Candle ($25, bathandbodyworks.com) is one of my personal favorites, and this year it's housed in a cute evergreen tub with what appears to be a very happy otter floating by. Cute!
Sweater Weather might sound like a cozy name, but this scent really caters to the outdoorsy types. With notes of fresh sage, juniper berry, eucalyptus, and fresh woods, it's a crisp, woodsy scent that many reviewers on the Bath & Body Works site claim is super powerful and quickly fills a room.
Maybe you aren't fond of the great outdoors, and instead need something with a little glitz and glamour? The Capri Blue Pumpkin Dulce Glam Signature Jar Candle ($32, capri-blue.com) should be just the ticket!
I can't get enough of this jar, which totally looks like it's coated in sparkly, sugary cinnamon. The candle itself has notes of white pumpkin, sweet gingersnap, and whipped vanilla, which totally explains why it looks as sweet as dessert.
Last but not least, this classy candle has a super traditionally fall scent: the NEST Pumpkin Chai Classic Candle ($42, nestfragrances.com) features notes of wild pumpkin, spicy masala chai, cardamom, ginger, and cinnamon, as well as seasonally appropriate orange packaging.
If you're a guest in someone else's home for any fall festivities, gifting them with this NEST candle is the ultimate generous gesture. Plus, if you get them to light it right away, you can enjoy the luxe, spicy scent, too!
My apartment after I've finished splurging on all these candles:
If you aren't as impulsive as I am, it's pretty unlikely you'll be buying this many candles for one fall season, so it's imperative that you choose wisely regarding the one or two you treat yourself to. After all, 'tis the season! #CandleSzn4Ever