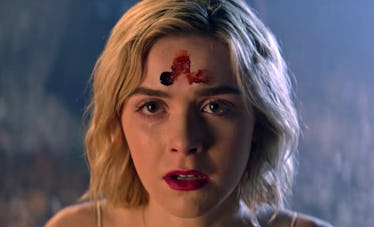 The 'Chilling Adventures Of Sabrina' Trailer Will Transport You To Greendale In 3 Minutes
Netflix
Something wicked this way comes... finally! After months of build-up, Netflix just dropped the first full-length trailer for its upcoming horror series Chilling Adventures of Sabrina, and it looks even more wicked than we could have imagined. Filled with bats, magic, dark rituals, and horned satanic beasts, the Chilling Adventures of Sabrina trailer offers a macabre introduction to the new series, with a few fun, campy moments thrown in there as well.
As the cast and crew of the new series have made clear, Chilling Adventures of Sabrina will look absolutely nothing like the '90s sitcom Sabrina the Teenage Witch, and the new trailer most definitely drives that point home. Although it does start off with the sweet teen romance we all know well, with Harvey Kinkle flirting with his girlfriend Sabrina, the trailer then quickly shifts to introduce Sabrina's dark, satanic, hidden world of magic. The trailer lays out what looks to be the central conflict of the show: a choice Sabrina must make between the dark world of witchcraft and the mortal world of her human friends. And the clock is ticking on when she must decide — her 16th birthday is also scheduled to be her "dark baptism."
Check out the full trailer for Chilling Adventures of Sabrina below:
The trailer highlights how conflicted Sabrina Spellman feels about this all-or-nothing decision between embracing her witch half or remaining a carefree human girl with her friends. During a creepy ceremony in the woods, Sabrina runs away from a book she is told to sign with her blood, saying "I can't do this," but we also see Sabrina using her dark powers with some other witches in the trailer.
Another mystery that fans are still left wondering is whether anyone from Riverdale will make their way over to Greendale in this new series. As the trailer spells out, Chilling Adventures of Sabrina comes from the same showrunners and creative team as Riverdale, leading many fans to wonder whether a crossover would happen on either show. Riverdale has actually already mentioned Greendale briefly — Ms. Grundy moved across Sweetwater River to the neighboring town of Greendale after being chased out of Riverdale — but the Chilling Adventures of Sabrina trailer makes no reference to the nearby town. Various members of the casts and crews of both shows have also claimed that a crossover won't happen any time soon, but hey, you never know.
Chilling Adventures of Sabrina stars Kiernan Shipka as the half-witch Sabrina Spellman and Ross Lynch as her mortal boyfriend Harvey Kinkle, who is oblivious to Sabrina's witchy world. Although the trailer is full of dark magic and evil creatures, there are a few moments of levity as well. These come courtesy of Sabrina's aunts Hilda and Zelda, played by Lucy Davis and Miranda Otto, respectively. We get our best look at Hilda and Zelda at the tail-end of the trailer, when Zelda bludgeons her sister and then matter-of-factly explains her reasoning as "She annoyed me, so I killed her."
Chilling Adventures of Sabrina will premiere Friday, Oct. 26, on Netflix.