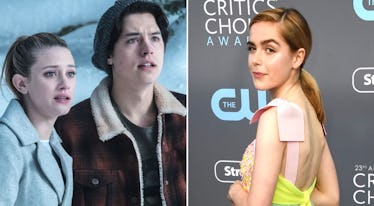 'Riverdale' Won't Crossover With Netflix's 'Sabrina' & Fans Are So Disappointed
CW, Frazer Harrison/Getty Images
With everyone's favorite teenage witch about to fly into the Riverdale universe with her very own spinoff series, one of the big questions fans have been asking is whether we are going to see Sabrina Spellman show up in Riverdale at all. Although the upcoming Sabrina series is technically set within the same world as Riverdale (her home of Greendale has even been mentioned a few times in the CW series), the executive producer of both series just confirmed that Riverdale and Sabrina will not cross over with one another.
Jon Goldwater, who is the CEO of Archie Comics and an executive producer on both Riverdale and Sabrina, shut down fans' hopes of a crossover between the two shows recently, saying that there are no plans at all for the two series to overlap:
Right now, we're not thinking about that. They're two separate entities for right now.
That statement seems to be the final nail in the coffin for any fan still holding out hope for a Riverdale/Sabrina crossover sometime soon. Cast members from both shows have also been saying that the two shows will remain separate from one another. Lili Reinhart recently said that Riverdale is not ready to introduce the supernatural element that Sabrina would bring, so the shows are being kept in separate universe. And Ross Lynch — who was recently cast to play Harvey Kinkle in Sabrina — also confirmed that there are no talks of a crossover currently, pointing out that the two shows will be airing on different networks, which adds to the complications of pulling a crossover off.
Although the new Sabrina series is being made by the same team behind Riverdale, and it is based on the same Archies Comics source material as the hit teen drama, Sabrina will be airing on Netflix while Riverdale continues its run on the CW. Although it definitely sounds like we will not be seeing a crossover between Riverdale and The Chilling Adventures of Sabrina in the near future, Jon Goldwater did leave the possibility open for a crossover sometime further in the future:
[I] would love it if they could figure out a way to cross over ... Going forward? You never know. Maybe.
So, definitely don't expect any crossover magic in the premiere season of The Chilling Adventures of Sabrina, or in the third season of Riverdale, but maybe in the seasons following we will see some more overlap between the sibling series.
This crossover-crushing news may be upsetting, but the Riverdale fandom also has some really exciting news to celebrate to cheer them up — the CW just renewed the teen drama for a third season! We still don't know specifics about when the third season is going to premiere and how many episodes it will include, but given the show's popularity, we can make some guesses. Season 3 of Riverdale will likely be another 22-episode run, like Season 2 was, and also like Season 2, the new season will most likely premiere in sometime in the fall of 2018.
If Riverdale Season 3 does premiere towards the end of 2018 as expected, then it will likely air alongside its sister series The Chilling Adventures of Sabrina. The new Sabrina spinoff is looking at the 2018-2019 TV season to debut on Netflix, which heavily suggests a fall or winter 2018 premiere. The new series will consist of 10 episodes, and it is also not clear yet how Netflix will release them: either dump all ten on one day as the streamer is prone to do, or revert to a more traditional, weekly release to keep in pace with Riverdale's schedule. We'll see what happens later this year.