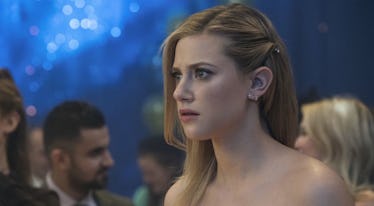 Lili Reinhart Reveals Whether Or Not She Thinks 'Riverdale' & 'Sabrina' Will Crossover
CW
Even before the Sabrina spinoff was announced towards the end of last year, Riverdale fans were already wondering if and how the darker take on the Archie comics might introduce the town's resident teenage witch. Well, now we know that Sabrina Spellman is getting her own series, but what does that mean she won't appear in Riverdale at all? And what about the possibility of the Riverdale characters showing up in Sabrina? We're finally getting some answers to these questions: Lili Reinhart crushed Riverdale fans' hopes of a Sabrina crossover in a new interview, so it sounds like the new spinoff will remain totally separate from Riverdale.
Although both Riverdale and the upcoming Sabrina series are being produced by the same team and both adapted from Archie comics, Lili Reinhart said that we should not expect any real crossovers... at least not at first. When Vulture asked Reinhart if we might see Betty Cooper pop up in Netflix's Sabrina series, she said that the new show will take place an a completely separate universe from Riverdale. She went on to say that it would not make sense for the two shows to coexist in one universe since Sabrina will obviously focus heavily on monsters and magic, whereas these supernatural elements don't exist in Riverdale, according to Reinhart:
I think Betty's solely in the Riverdale world and it doesn't make sense for a crossover. That's why the decision was ultimately made to move to Netflix — to make these Riverdale and Sabrina shows completely separate universes. I don't really know what [showunner] Roberto [Aguirre-Sacasa]'s plan is for Sabrina or what aspect of the supernatural or magic will be used. I know that doesn't exist in Riverdale. At least right now. So it wouldn't make sense for those two worlds to collide. So, I'd say don't expect Betty to be in that world.
Hmmm, that is definitely some enlightening for Riverdale fans, especially since questions about whether supernatural elements might be introduced (or have already been secretly introduced) in the series have been popping up for a while now. Obviously, magic played a role in the Archie comics thanks to Sabrina Spellman, but I guess showrunner Roberto Aguirre-Sacasa may be keeping Riverdale magic-free and reserving all the supernatural stuff for a self-contained Sabrina spinoff.
Adding to this split in universes is the fact that Riverdale airs on the CW and the new Sabrina series was picked up by Netflix. Although Riverdale does have a syndication deal with Netflix (and in fact, it was largely thanks to the streaming service that the show garnered its large millennial following after its first season aired), the show still remains a CW property, which could make crossovers with another network difficult just on a business end.
So what does this all mean? Well, a big question that has been coming up since Netflix announced its Sabrina spin-off series is whether we will meet Sabrina Spellman in the currently airing second season of Riverdale ahead of her show's premiere. Since now it sounds like the shows are going to keep Sabrina and Riverdale totally separate, we are probably going to have to wait until the Sabrina premiere to meet the iconic teenage witch.
Some other details we know about the new Sabrina show: it will be based on the recently-begun comic book series The Chilling Adventures of Sabrina, and will not involve anyone from the Melissa Joan Hart-starring '90s family sitcom Sabrina the Teenage Witch. Although centered on the same character, the new show will also look much different from Sabrina the Teenage Witch. Netflix's Sabrina will be much more horror-focused, citing Rosemary's Baby and The Exorcist as influences, and Melissa Joan Hart said it sounded similar to Buffy the Vampire Slayer.
The new Sabrina spinoff is expected to premiere later this year.