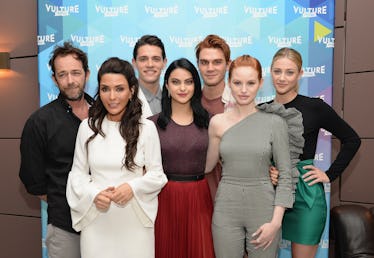 Pour Yourself A Milkshake Because 'Riverdale' Was Finally Renewed For Season 3
Andrew Toth/Getty Images Entertainment/Getty Images
The drama on Riverdale never seems to end, but fans definitely aren't complaining. Their hunger for the dark, twisty CW drama has helped the series grow to an incredible level of fame, and the show is far from running out of steam. With five episodes left in Season 2, fans have been dying for answers regarding Cheryl's threat toward Riverdale High and the town's mayoral race. However, it may take awhile for viewers to get every answer they crave, because Riverdale was renewed for Season 3 and fans are seriously pumped.
Renewed alongside nine other CW shows on Monday, Riverdale launched its second season to eventually stellar ratings. The insane first season began streaming on Netflix ahead of Season 2, helping thousands of new fans discover the series just in time for the show's sophomore return. Its strong ratings likely played a part in The CW's decision to launch a two-hour Sunday primetime block in the 2018-19 TV season, which definitely opened room for more of the network's shows to air another season. Riverdale may be the only reason you tune into The CW, but even a single viewership could have helped out other shows' fate. Forget Christmas - Riverdale's fall TV schedule was clearly the true season of giving!
Upon the announcement of its show renewals, CW president Mark Pedowitz said:
As The CW expands to a six-night, Sunday through Friday schedule next season, we are proud to have such a deep bench of great returning series for 2018-19. By picking these ten series up for next season, we have a terrific selection of programming to choose from when we set our fall schedule in May, with more still to come. And I'm especially happy that we'll continue to work with the incredibly talented casts, producers, and writers who create the series our fans are so passionate about.
With new episodes of Riverdale still paused until April 18, fans took to Twitter to celebrate the renewal announcement. We may not know about future plot details, but as one fan pointed out, a third season means plenty of more Bughead moments, which I'm not complaining about at all.
Given the show's popularity, its renewal wasn't unexpected. During recent media appearances, several cast members teased the possibility of a third season, while Skeet Ulrich, who plays FP Jones, essentially confirmed it while at fan event RiverCon in Paris last week. He revealed that filming for Season 3 was scheduled to begin in July, which may have prompted The CW's official announcement about the show's future. You've got to love it when actors let juicy secrets slip!
Amidst the excited freakouts about Season 3, fans still have the ending of Season 2 to look forward to. When Riverdale returns on April 18, the show's much-anticipated musical episode, based on Carrie: The Musical, will premiere. According to Variety, the episode, "A Night to Remember," will be presented as a documentary project filmed by Jughead, while Casey Cott's Kevin will direct the musical. The episode is expected to include elements of the original horror novel Carrie, as well as the Broadway musical based on the book.
A cast list created for the episode also revealed that Cheryl will star as lead Carrie White, while Betty and Archie portray Sue Snell and Tommy Ross. It won't be the first time the show has musical moments, but the theme of presenting a high school musical is new to the series.
It seems that the musical-themed episode will be a perfect one for fans to see so soon after confirmation of a third Riverdale season. At first glance, the idea looks kooky, but isn't that exactly why so many people love the show?
Riverdale returns on Wednesday, April 18, at 8 p.m. ET on The CW.