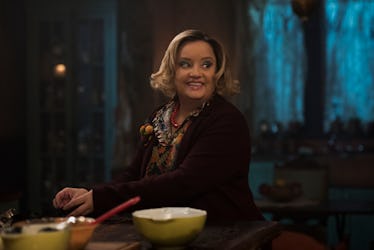 This 'Chilling Adventures Of Sabrina' Clip Shows How Different It Is From The Original
Dean Buscher/Netflix
Netflix's upcoming Chilling Adventures of Sabrina probably doesn't fit the warm and fuzzy TGIF memories of you might have of Sabrina the Teenage Witch. The series more closely follows the darker Archie comics version associated with the classic half-witch-half-human character. Aunt Zelda, Aunt Hilda, and cat Salem all appear in the updated iteration, but they don't exactly mirror their '90s sitcom counterparts. A recently released Chilling Adventures of Sabrina clip makes that creative departure from the original series all the more clear.
Lucy Davis, who you may recognize from The Office (the UK one), Better Things, or Wonder Woman, portrays Hilda on Chilling Adventures of Sabrina. The British actress sat down to chat about the project on Oct. 2's KTLA 5 Morning News show, and she even blessed eager fans with a sneak peek clip of her bewitching character in action.
"When I was your age, I found my name in the Book of the Beast," Hilda tells her niece Sabrina Spellman (Kiernan Shipka). "Us girls didn't have any options back then. It's just simply what was done. Do I have regrets? You mustn't tell your Aunt Zelda this, but some days, some nights, I dream that I am walking into the Greendale woods in the peak of dry season with a lit torch in each hand so I can watch the whole forest burn."
OK then. Ominous, much? While the video also hints at comedic elements ahead, it's clear that (mostly) something wicked this way come. With great supernatural powers comes great scary responsibility.
"It's much darker, it's based on the Archie comics — not quite as dark as that, it's quite dark. It's super fun. It's got a bit of everything, comedy and horror and nods to genres that I love. I love the horror genre. It's got a bit of everything. And it isn't the same," Davis explained.
Comedian Caroline Rhea famously played Aunt Hilda on ABC and WB's Sabrina the Teenage Witch for seven seasons. It appears Davis' approach will be a tad creepier than her memorably bubbly portrayal.
"It's sort of like The Sopranos, as if you were telling it from Meadow's point of view," creator Roberto Aguirre-Sacasa (who wrote the comic books of the same name and also acts as Riverdale's showrunner) explained of Chilling Adventures' narrative approach. The show is set in the 1960s and has additionally been described as "in the vein of Rosemary's Baby and The Exorcist."
Netflix unveiled a first-look teaser for the the series in September. The eerie clip, set to a hair-raising rendition of "Happy Birthday," shows Sabrina dealing with what seem to be various forces of darkness and evil while just trying to survive normal teenage girldom. In one shot she's kissing her boyfriend Harvey Kinkle (Ross Lynch), in another she's running through the woods at night all alone. I don't know what your 16th birthday parties looked like, but mine certainly did not include a horrifying, unidentifiable, horned creature.
Chilling Adventures of Sabrina begins streaming Friday, Oct. 26 on Netflix.