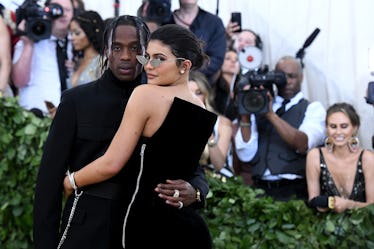 The 12 Most Romantic Celebrity Instagrams Of 2018 Will Make You Swoon
Noam Galai/Getty Images Entertainment/Getty Images
Celebrity couples can be hard to keep track of. Who's hooking up now, and are the still together? 2018 was a big year for celeb courtships and couple news, and a few of my favorite lovey-dovey stars stand out from the rest. If you ever need a reminder of how great love can be, just scope out the most romantic celebrity Instagrams of 2018.
From OGs like Bey and Jay and Chrissy Teigen and John Legend to newer power couples like Mr. and Mrs. Bieber, Cole Sprouse and Lili Reinhart, and Kylie Jenner and Travis Scott, you can find a lot to aspire to just by scrolling through the 'Gram. These couples aren't afraid to shout about their love from the rooftops — or, you know, to their millions of followers.
Even the biggest celebs can catch some serious feelings and fall hard for bae, and some of their IG posts prove it. I don't know about you, but the fangirl in me is #thankful that some of these couples keep us up to date with their personal lives and relationships. Somehow, a sprung celebrity seems all the more relatable to me.
I've rounded up the best mushy-gushy posts from 2018 to remind you how sweet love can be. These 12 romantic celebrity Instagrams will make you go, "Awwwww."