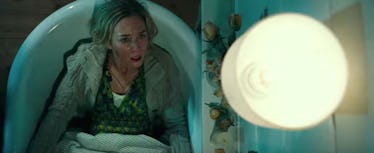 Emily Blunt & John Krasinski Are Starring In A Movie Together & The Trailer Is So Intense
Paramount/YouTube
If you haven't had your coffee yet this Thursday morning, the frightening just-released A Quiet Place trailer will wake you right up. The eerie thriller, written and directed by John Krasinski, is set to be released in April and we're already intrigued by this brief yet powerful introduction. The clip portrays a family living on a farm in total silence. There's no dialogue — only the terrifying tension of a group of seemingly isolated people trying to make it out alive. The tagline explains: "If they can't hear you, they can't hunt you." Who is hunting these people?!
A Quiet Place is not only helmed by Krasinski, who co-wrote the script and got behind the camera for the project. The ridiculously talented Emily Blunt acts as his co-star. This is the first time the couple has shared the screen together, if you can believe it. Millicent Simmonds, who stunned with a memorable debut performance in this year's Wonderstruck, also stars. Noah Jupe of Suburbicon rounds out the cast. Krasinski is no stranger to directing as well as taking on roles in a variety of genres, but this movie looks like it couldn't be more of a departure from his unforgettable comedic Office days.
This teaser definitely proves that words aren't necessary to elevate a story to a seriously creepy place. Even if the characters remain silent doesn't mean the audience won't be screaming, though.
A Quiet Place is John Krasinski's third feature film directorial effort. The multi-hyphenate artist lent his skills to 2016's The Hollars and 2009's Brief Interviews With Hideous Men, in addition to three episodes of The Office. Before writing A Quiet Place, he previously penned 2012's A Promised Land.
And anyone who's been following the career of Emily Blunt since she stole scenes in 2006's The Devil Wears Prada knows she's capable of versatile greatness. The actress and singer will be reviving an iconic role for 2018's Mary Poppins Returns, alongside Lin-Manuel Miranda and a some person named Meryl Streep. JK. We can't wait to see this pair reunited on screen for such a supercalifragilisticexpialidocious reason.
"We've always talked about doing a movie or a play together. We just don't want the idea of us being married to supercede the movie, so we have have to find something that's that specific," Krasinski told Time in 2016 regarding a professional partnership with his spouse Emily at some point. It looks like they found a very interesting project to kick off their working relationship.
In addition to A Quiet Place, John Krasinski is stepping into an action-packed TV role as leading man Jack Ryan in Tom Clancy's Jack Ryan for Amazon. The show will premiere in 2018. John is the fifth actor to play the character, but he's in good company alongside Harrison Ford and Chris Pine...
And of course, John will always appreciate the show that truly started it all for him. He told Harper's Bazaar last year that he would be open to an Office reunion:
It's funny because people ask, why did I direct this or why did I do Jack Ryan or 13 Hours—to me, it's always about, where's a great story? I have no problem doing something like a reunion movie or a reunion show. I thought that our experience was so perfect, so just let me know what the story is that's good enough that would bring us all together and I'm there.
That's the spirit!
Emily Blunt and John Krasinski are clearly one of Hollywood's golden couples. We can't wait to see them scare the shh (get it?) out of us in A Quiet Place. And maybe if we're lucky, we'll get another hilarious glimpse at their ongoing Christmas prank war with Jimmy Kimmel this holiday season.