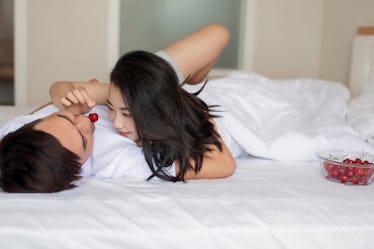 The Second Helping Is The Thanksgiving Sex Move That Keeps On Coming
Shutterstock
If you've got a big appetite, you may already know the joy of a second helping. Whether you go for two slices of pie as it's being served or wait a minute to go back and get some more, sometimes the best things just keep on coming. And if you're looking for Thanksgiving 2019's hottest sex move, get ready to have your mind blown — twice.
Listen, after a long day of eating too much food, pretending to watch "the game," and introducing your partner to everyone in your family, you may not be in the mood for a full-on workout. The Second Helping is a low-intensity position that calls for minimal movement and maximum pleasure. (Read: It's an easy way to get frisky after eating your weight in mashed potatoes.) Whether you excuse yourself from the table to serve some dessert of your own or if you wait until you get home to show your gratitude to each other in your own way, the second helping will let you connect with your boo after a long Thanksgiving Day.
And if you're all turkey-ed out and still ready to rumble, the second helping maybe the best part of Thanksgiving 2019.