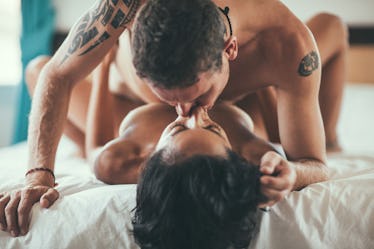 "The Turkey Trot" Is The 1 Sex Move You Need To Try After Thanksgiving Dinner
OK, so I know that Thanksgiving is usually all about family and food. But you still have needs, you know? And sometimes a fun holiday can put you in the mood for a... different kind of stuffing. If you know what I mean. Since the big drawback to trying any sex position after Thanksgiving dinner is being really full, the Turkey Trot is a position you might enjoy, like, a lot.
If you want sex after a big meal to be enjoyable, you're not without options! Picking a position that puts the least amount of pressure on your stomach as possible is the best way to go. If you hadn't previously considered Thanksgiving sex, the time is now, my friends. Sneaking away with your partner after dinner to spend time together can be pretty hot. Keep in mind that you're not limited to hooking up in a bedroom this year because your parents' house might just have a few more options. And, by the way, if you're not sure about how loud the two of you will be, the noise of the football game on TV should be enough to block out any other sounds.
When it comes down to it, there's definitely something kinda romantic about the holidays. Sometimes you make eye contact with your partner across a crowded room, and you both just know that you want to be alone. So, turkey trot to a spot with someone privacy and, as they say on Thanksgiving, gobble gobble!