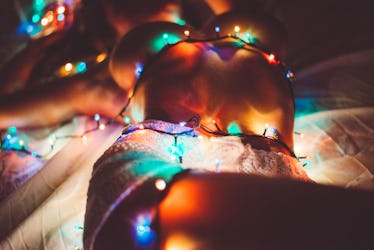 8 Places To Hook Up When You Bring Your Significant Other Home For The Holidays
So, you're bringing your significant other home for the holidays. Much like So You Think You Can Dance, bringing a partner home to meet your family can be one heck of a challenge. Maybe they're a regular attendant at your family's festivities by now, or you're riddled with teeth-chattering nerves at the thought of their first visit to your parents' home. Either way, you've probably already questioned whether or not having sex while home for the holidays is even a good idea. I am here to tell you that is totally a good idea, as long as you're willing to get creative.
If your family is anything like mine, you and your partner are going to be expected to sleep in separate rooms — but don't worry, there are still plenty of other places to hook up. As long as no one is, like, within hearing distance of the following locations, things could still get pretty festive for you and bae, if you know what I mean. Sometimes hooking up somewhere like a walk-in closet or the back of your car can be super thrilling. I don't know about you, but sneaking around always makes me feel like I am basically in high school again.
Consider giving the following locations a test-run this holiday season, because there are eight reasons to end up on the naughty list this year.