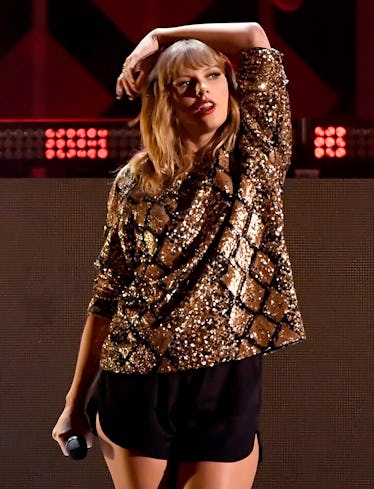 The "Delicate" Music Video Is Giving Me Major Old Taylor Vibes & I Missed This
Kevin Winter/Getty Images Entertainment/Getty Images
It wouldn't be a music awards show without T-Swift news. As we all try to recover from the excitement of the iHeartRadio Music Awards, the songstress has other plans. Taylor Swift's "Delicate" music video has finally arrived, and it's giving me vintage T-Swift feels.
Taylor Swift delivered the "Delicate" music video during the iHeartRadio Music Awards on March 11. As opposed to her previous, edgier releases, this song is a romantic, slow interlude that is reminiscent of those classic "Teardrops on my Guitar" days. So the whole dancing-barefoot-in-the-rain thing felt just so right.
Of course, we knew in advance this was coming. On March 5 Swift took to Instagram to announce her plan to release the "Delicate" music video on Sunday, March 11 during the iHeartRadio Music Awards. In the video, "Delicate" plays in the background as Swift plays with a piece of paper that she slowly opens to reveal the exciting announcement. The track "Delicate" is the fifth single of Swift's 2017 album Reputation, and is a sweeter track compared to the album's more hard-hitting songs.
On Nov. 14, 2017 Swift shared a behind the scenes video of the creative process in making "Delicate," specifically her attention to the writing process. Swift released the video as a part of her "The Making of the Song" YouTube series. Throughout the video, Swift proves she's a perfectionist by intently tweaking and revising line by line of each track. Call Taylor Swift what you want, but you definitely can't call her lazy.
Since getting a inside glimpse of the amount of work that went into "Delicate," I think it's safe to say that we've all been on the edge of our seats waiting for her to drop the video.
And finally it has arrived. Blessed be this day.
The video is a perfect riff on old-meets-new Taylor — check out that goofy making-faces-in-the-mirror scene. And the flowy blue dress? Classic romantic Taylor. And the singing and dancing in the rain thing? I don't think I need to say more. (And yes, there's a hidden reference to her beau Joe Alwyn too.)
Even though this may not be the first music video release off her album Reputation album, we're still so pumped. Swift released her first music video for "Look What You Made Me Do" on Aug. 27, 2017 and her second music video for "Ready For It" in late October. And then there was the music video for "End Game" which came out on Jan. 11. Of course, it wouldn't be a classic T-Swift music video release without fans analyzing every detail of the project.
I don't know about y'all, but I can't wait to see all the details the Swifties point out for "Delicate."
On Nov. 10, 2017 iHeartRadio shared details from Reputation's album release party, which included track by track commentary from Swift herself detailing the meaning behind each song. Swift discusses how making "Delicate" forced her to abandon all care of other's opinions and just let her voice do all the work.
She said,
We tried it in the studio, and I thought it sounded really emotional, and really vulnerable, and really kind of, like, sad but beautiful. The idea of your reputation is definitely something that I play on for the entire album, but when the album starts off it's much more bombastic. It's more like, 'Oh, I don't care what you say about me, I don't care what you say about my reputation, it doesn't matter.'
She continued,
And you start to wonder, could something fake, like your reputation, affect something real, like somebody getting to know you? And you start to wonder, how much does all that matter? And this is the first point of vulnerability in the record where you're like, oh maybe this does actually matter a little bit. And how does that factor in, kind of questioning the reality and the perception of a reputation, and how much weight it actually has.
Despite the struggle, Swift eventually came out on top with an incredible album. True queen.
While it hasn't necessarily been confirmed who the song is about, many speculate her beau Joe Alwyn may be the source of inspiration for the romantic tune. Either way, this song is relatable as hell, and it's perfect for blasting whenever you're in the mood to just feel.
So if you need me for the next week, I'll be re-watching the "Delicate" music video.