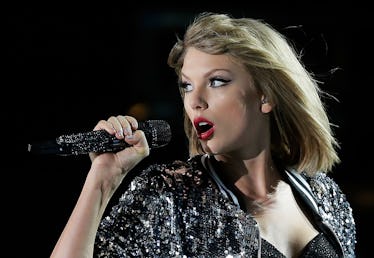 Taylor Swift's Fans Are Freaking Out Over This Behind-The-Scenes Video For "Delicate"
Mark Metcalfe/Getty Images Entertainment/Getty Images
Taylor Swift's new album, Reputation, has been giving her fans so much life, but the singer isn't done sharing. Yes, that's right, there's even more Taylor, if you can handle it. On top of stopping into her local Target to buy the album and hang out with fans, Taylor Swift's behind-the-scenes video for "Delicate" is here and it's pretty eye-opening.
You see, writing a song is a process and it's not that easy, even for someone as talented as Swift. While we'd all like to think she just steps into a studio and magically creates her next hit single, there's a little bit of a struggle to get things just right.
In this new "The Making of a Song" installment, she works on writing "Delicate" and, as she shared the process of writing "Gorgeous," there's a fair amount of tweaking involved to land on just the right sound and lyrics. It's honestly amazing how hard she works to perfect everything.
Swift, for the most part, looks very focused on working through it, with subtle tweaks at the lyrics and rhythm, and a pretty laser precise concentration on reworking things. It's not that she's not enjoying herself, but she definitely is putting in the work and it shows.
Fans zeroed in on one moment when it all just "clicks" for Swift and she looks over-the-moon happy with herself about it.
How cool is it to see a song come together this way?
Swift and producer Max Martin work through the creative process and it's amazing that she's giving fans this inside glimpse at her world. She's keeping it 100 percent real, as always, and her fans are forever grateful for the singer letting us all be a small part of what she does.
Fans totally loved Swift's reaction to getting the piece she's working on just right, as one person tweeted:
Another fan tweeted: "Taylor finding the perfect lyrics for delicate is too cute!!!!!!!!! So adorable i wanna hug u!!!!!! ‪@taylorswift13 ‪@taylornation13 #reputation‪ #taylurking."
This fan was feeling Swift's happy vibes, tweeting: "did anyone else die when Taylor finally figured out the bridge in Delicate because I did."
iHeartRadio shared details from Swift's Reputation Album Release Party, including explanations of each track. She said of "Delicate":
There's an effect that you may hear on the vocals throughout the vocals on the rest of the album that is recurring, and it's a vocoder. It's a vocal effect where you sing, and the vocoder splits your voice into chords, and you can play your voice on a keyboard, in chords. So basically, if you're singing the notes of a piano, and you could play your own voice. So that's what you'll hear in the beginning, and throughout the song, and then you'll hear it several times. We tried it in the studio, and I thought it sounded really emotional, and really vulnerable, and really kind of, like, sad but beautiful.
She continued:
The idea of your reputation is definitely something that I play on for the entire album, but when the album starts off it's much more bombastic. It's more like, 'Oh, I don't care what you say about me, I don't care what you say about my reputation, it doesn't matter.' But then it hits this point, on track five, where it's like, oh god, what happens when you meet somebody that you really want in your life and then you start worrying about what they've heard before they met you. And you start to wonder, could something fake, like your reputation, affect something real, like somebody getting to know you? And you start to wonder, how much does all that matter? And this is the first point of vulnerability in the record where you're like, oh maybe this does actually matter a little bit. And how does that factor in, kind of questioning the reality and the perception of a reputation, and how much weight it actually has.
Deep stuff.
Check out the entire Gen Why series and other videos on Facebook and the Bustle app across Apple TV, Roku, and Amazon Fire TV.