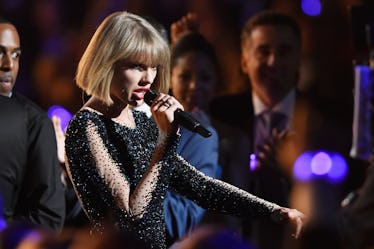 Taylor Swift's Song "Delicate" May Be An Ode To Her Current Boyfriend & We Love It
Kevork Djansezian/Getty Images Entertainment/Getty Images
The time has come — can you even believe? Taylor Swift's album Reputation that she's been teasing for weeks finally dropped at midnight on Nov. 10. Throughout her musical career, she's taken fans on a journey of highs and lows in her love life, and this album is no exception. So, naturally there's a burning question that listeners have: Who is "Delicate" about? Because Taylor Swift's new song could be an ode to Joe Alwyn.
"Delicate" is the fifth track on Swift's album, and it appears to be a little respite from her bold music about how she's owning her not-so-sweet reputation these days. The song even opens with Swift acknowledging that her name has been, well, a bit tarnished, likely as the result of public feuds with stars like Kanye West and just by general mistrust. "My reputation's never been worse, so you must like me for me" she sings. Here's a link to buy this sweet song on iTunes.
In the rest of the song, Swift describes an encounter with this mystery person in "dark jeans and your Nikes," where they come across each other in a bar and possibly spend the night together. The subject of the sensitive tune could very well be her real-life, rumored paramour, 26-year-old British actor Joe Alwyn. A source claimed to People that the relationship is going well. "It's a great relationship that everyone hopes will last. Joe could definitely be the one," the unnamed source claimed in a report.
The lyrics are sensitive and sweet.
The "Delicate" that Swift refers to in the title appears to be a reference to how she's been feeling and if it's too soon to get into a relationship with the not-so-mystery subject of the song. The chorus goes:
Is it cool that I said all that? / Is it chill that you're in my head? / 'Cause I know that it's delicate (delicate). / Is it cool that I said all that? / Is it too soon to do this yet? / 'Cause I know that it's delicate / Isn't it? Isn't it? Isn't it? Isn't it? / Isn't it? Isn't it? Isn't it? / Isn't it delicate?
After referencing this figure of intrigue in the first verse — remember the line about the Nikes — Swift gets even more intimate in the second verse, referencing a night that the pair may have spent together. She's very open about her feelings, to say the least:
Third floor on the west side, me and you. / Handsome, you're a mansion with a view. / Do the girls back home touch you like I do? / Long night, with your hands up in my hair. / Echoes of your footsteps on the stairs. / Stay here, honey, I don't wanna share. / 'Cause I like you.
It sounds like she's pretty smitten with this one. While Swift has been open about who she's dated in the past, she's been pretty private about Alwyn (as she is entitled to be). Though he's not named in the song, fans who went to her early listening parties have been wondering if the music is about him. And they said that she even made them promise to say that a different song, "Gorgeous," is about him.
The track order is telling.
"Delicate" comes a third of the way through the 15-track album. The songs "Gorgeous" and "King of My Heart" come in at number eight and number 10, respectively. Both of these tracks show an escalation in the songstress' feelings for the subject. In "Gorgeous," she references the mystery man's "ocean blue eyes" — strikingly similar to Alwyn's — and in "King of My Heart," she says that they "rule the kingdom inside my room," which makes it sound like they've been spending more time together than in "Delicate."
The album culminates with the song "New Year's Day," which is rumored to be a wedding song. In it, Swift sings, "Hold on to the memories, they will hold on to you," which sounds like a lyric fit for a long-term relationship.
If "Delicate" is any indication, Swift is on the up and up from having a hard time with the press. If the entirety of Reputation shows how things have progressed in the relationship, then she seems to be doing just fine.
Check out the entire Gen Why series and other videos on Facebook and the Bustle app across Apple TV, Roku, and Amazon Fire TV.
Check out the "Best of Elite Daily" stream in the Bustle App for more stories just like this!