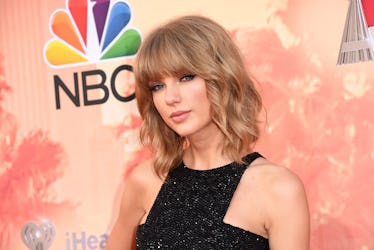 Are Taylor Swift & Joe Alwyn Engaged? The 'Reputation' Singer's Fans Have A Theory
Jason Merritt/TERM/Getty Images Entertainment/Getty Images
With the release of Taylor Swift's new album, Reputation, comes oh-so-many theories. This might just be the wildest one I've seen yet, but hey, anything's possible. Are Taylor Swift and Joe Alwyn engaged? According to fans, Swift's song "New Year's Day" may just reveal something extra special.
Well, first, OMG, if this is true, and second, how did fans even figure this theory out? I'm guessing that all the romantic lyrics we've heard so far plus Swift's story about Alwyn that Secret Session attendees have shared has people thinking she's head over heels.
When Swift released the Reputation tracklist, track 15 really got people thinking. Note that it's the last song on the album and there's already a theory that Reputation should be listened to in tracklist order to get the full impact of the story the singer is telling. Could the songs before "New Year's Day" be leading up to something huge?
During the Secret Sessions, one song in particular had people crying, but no one knows which song that is or why tears were shed. Remember, those who attended the listening parties have been sworn to secrecy, so they can't spill any beans.
There's also the hint that Swift reportedly told fans that "New Year's Day" is a total wedding song, so yeah... it's easy to see how everyone connected the dots.
One fan who was at the Secret Session tweeted: "Since Taylor said that track 15 is a wedding song, also know its the one that made everyone cry." OK, so that's settled. The song had everyone emotional AF.
Another fan noted: "New Year's Day is apparently wedding song quality... what if Taylor and Joe are getting married on New Years Day???"
Another fan straight up asked: "you guys what if taylor and joe are engaged?"
Another fan responded: "like maybe he proposed her on new year's day? that's why she named the song like that and also related to a wedding song?? and a secret session fan said it's better than all too well maybe bc it's other side of all too well??" There's definitely a lot to think about.
Others are totally buying into the idea, with one fan tweeting: "i like to believe the theory that says track 15 is about taylor being engaged and that the secret message will be 'i am engaged' or something."
Another predicted this: "If track 15 is where Taylor sings about getting engaged, I will freaking cry puddles of happy tears!!!! ‪@taylorswift13 ‪#REPUTATION." You won't be the only one.
Even if the song isn't all about Swift and Alwyn getting engaged, this fan had some excellent thoughts on the song:
Swift's special performance of "New Year's Day" will air within the 9 p.m. ET hour, Nov. 9 on ABC during Scandal. Here's a teaser of what you'll hear:
Could "New Year's Day" be about Alwyn? In a new report from People, a source told the site: "It's a great relationship that everyone hopes will last. Joe could definitely be the one."
The insider added:
Their relationship is very different from Taylor's past ones. They much prefer having dinner parties at home with friends than going out. Just like Taylor, Joe is a homebody. He loves being an actor but doesn't like the celebrity part of it. It's pretty special to find someone you're on the same page with.
Sigh. Whether "New Year's Day" is about Swift and Alwyn being engaged remains to be seen, but fans are super excited that the pop star has finally got herself a keeper.
Check out the entire Gen Why series and other videos on Facebook and the Bustle app across Apple TV, Roku, and Amazon Fire TV.