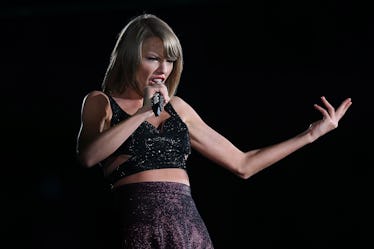 Is "Call It What You Want" About Joe Alwyn? Taylor Swift's New Song Sounds Deep
Graham Denholm/Getty Images Entertainment/Getty Images
Taylor Swift is dropping a new single tonight, Nov. 2, at midnight and this is not a drill. Is "Call It What You Want" about Joe Alwyn, though? Luckily, Swift shared some of the song's lyrics ahead of the drop, so that gives us all plenty of time to read into everything too much and make our best guesses. With lyrics so romantic, it just has to be all about Alwyn, right?
UPDATE: Swift dropped her full "Call It What You Want" single, and there's one line that may prove the song is about Alwyn. The lyrics read, "I want to wear his initial on a chain around my neck, not because he owns me, but 'cause he really knows me, which is more than they can say. I recall late November, holding my breath, slowly I said, 'You don't need to save me, but would you run away with me?' 'Yes.'" According to reports, Swift and Tom Hiddleston broke up in September 2016, so it's definitely possible she was already talking to Alwyn. Of course, we may never know, but it could be a huge hint.
EARLIER: Swift posted teaser images for her new song on Instagram, announcing the midnight release, and yeah, there's not a lot to go on, but that's never stopped her fans from piecing things together in a meaningful way. Here's what she gave us to work with:
Holding my breath
Slowly I said
"You don't need to save me...
But would you run away with me?"
... "Yes"
Right. Limited info. Let's check out some of the fan theories about why this could be inspired by Alwyn in some way.
This comparison to the lyrics of her song "Love Story" is definitely something to chew on: "in love story taylor wanted to be saved but in call it what you want she doesn't need anyone to save her." Hmm.
There are also plenty of comparisons to Swift's "All Too Well" in the mix:
Is this "All Too Well" 2.0? One fan is ready: "TAYLOR SWIFT IS PLAYING WITH MY FEELINGS. OHMYGAWD! ALL TOO WELL 2.0? IM EXCITED!"
Bring on the emotions, as this fan summed up some pretty big feels: "WTF I'M HYPED FOR TAYLOR SWIFT SHE'S GONNA MAKE ME CRY AND EMO AGAIN ALL TOO WELL FEELS I'M NOT READY WAAAAHHH."
Anyone else this patient? Yeah, me neither:
Here's one fan theory that I'm in love with because it's hilarious: "Swifties: guys toe was a cute ship name oh wait also swiflwyn or how about jailor OMG hold on I CANT CHOOSE... Taylor: Call it what you want."
Yes. This: "i think that call it what you want is gonna be about how the relationship of joe and taylor started and that they both knew they liked each."
Will we get some Secret Session intel on the meaning behind the "Call It What You Want" lyrics? One fan tweeted something to think about: "taylor wanted to break things off with joe early on so as to not hurt him or herself but he didn't want to bc he loves her for who she is."
When another fan asked, "Who said that?," she responded, "someone at the ss said it."
Another fan seemed to confirm this idea, tweeting: "SO MAYBE THIS IS A SONG WHERE TAYLOR TALKS ABOUT HOW JOE SAID NO TO HER WHEN SHE ASK HIM TO LEAVE HER BEFORE SHE HURT HIM AND HERSELF."
This theory is definitely heating up, with one fan tweeting: "Anyone else think of when Tay told Joe to go and he said no and now they're running away together."
Whether or not this is true, one fan who was at a Secret Session seemed to confirm this bit of info:
Another fan thinks the song is definitely about Alwyn: "a new piece to the puzzle! i legit feel like this is about how joe and taylor got together."
To add to the insane anticipation for her album, Swift will sing a new song in a special performance Nov. 9 as part of TGIT on ABC, the Thursday night lineup that includes Scandal. The Scandal Twitter account posted this teaser video, writing: "Watch #TGIT Next Thursday to see the World Premiere Performance of a new song by @taylorswift13! #TGITaylor."
In the clip, there's some beautiful imagery of an ocean, possibly Swift's Rhode Island mansion, a piano, and floor-to-ceiling windows, as Swift's hands play one chord.
Reputation is out Nov. 10.
Check out the entire Gen Why series and other videos on Facebook and the Bustle app across Apple TV, Roku, and Amazon Fire TV.