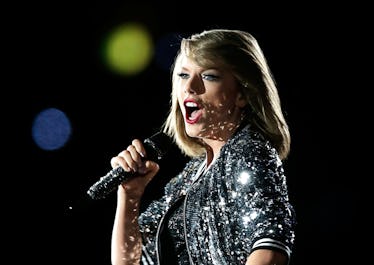 This Theory About The Order Of Taylor Swift's 'Reputation' Tracklist Is Actually Insane
Mark Metcalfe/Getty Images Entertainment/Getty Images
After so many rumors about Taylor Swift's Reputation, the album tracklist is here and there are a whole new crop of theories to sort out. Swift's fans have their work cut out for them, but this theory about Taylor Swift's Reputation tracklist order definitely seems legit. It's worth exploring, anyway.
First, let's get to that tracklist, which Swift posted on social media. Here are the songs you'll be feasting your ears upon soon enough:
"…Ready For It?"
"End Game" (feat. Ed Sheeran and Future)
"I Did Something Bad"
"Don't Blame Me"
"Delicate"
"Look What You Made Me Do"
"So It Goes…"
"Gorgeous"
"Getaway Car"
"King Of My Heart"
"Dancing With Our Hands Tied"
"Dress"
"This Is Why We Can't Have Nice Things"
"Call It What You Want"
"New Year's Day"
There's a lot to unpack with the song titles because each one hints at who or what the song is about in just a few words (or, in some cases, just one word). Here's the going theory about the Reputation tracklist though: listen to the songs in order. I know, it doesn't sound like such a groundbreaking idea, but as all things Swift go, there's a reason why the songs are in this particular order.
One fan asked: "WHAT IF REPUTATION IS LIKE A CHRONOLOGICAL STORY BEGINNING WITH 'READY FOR IT' AND YOU HAVE TO LISTEN TO THE STORY IN ORDER."
This idea definitely holds a lot of weight. According to fans who attended the Secret Sessions, listening to everything in the presented tracklist order will be some kind of eye-opening, earth-shattering experience. Well, maybe not quite that dramatic, but Swift definitely is telling a story and fans are here for it.
Check out what this fan had to say about the order: "If you guys are listening to the album in order... going from Ready For It to End Game AHAHAHAHAHHA... JUST WAIT!!!!!" Why are you doing this to me?
She added: "GUYS ok I understand if you don't want to listen to the album in order but please listen to Ready For It and then End Game PLEASEEEEEE."
It's a strong recommendation that I think definitely should be followed, as she added: "I'm not telling people how to listen to the album, but I'm just HIGHLY recommending that you guys listen in order because it is a story."
Of course, until we hear the songs, it's hard to tell what exactly that story will be, but given that we know some of the songs in between, maybe we can piece some of it together. Kicking it off with "...Ready For It?," through the other songs we know, "Look What You Made Me Do," "Gorgeous," and "Call It What You Want," you can kind of get the sense of a narrative.
Another tiny detail is the use of ellipses, which seem to indicate some connection: "...Ready For It?" begins with ellipses and "So It Goes..." ends with ellipses. Some fans believe that Reputation is split into two parts, with the songs before the ellipses being about her reputation and the ones after the ellipses about her real self.
What other pieces of intel are there from Secret Session attendees about the album? How about that "Dress" is pretty sexy, as one person tweeted: "Apparently Scott and Andrea [Swift's parents] left the room in the SS when Dress played... I guess it's a sexy song then. So excited!!"
I think we can all agree with this fan: "the fact that taylor has songs about doing 'the dirty' has me TRIPPING. omg i am too excited for this album!!!!!!" Same.
Swift also shared some real dirt today, tweeting these images of her Target magazines that have a little fun with the media obsession surrounding her, with stunning revelations like, "Who is Olivia's real father?" and "Handwritten Lyrics Reveal the Truth!"
It's nice to see Swift not take herself too seriously.
Check out the entire Gen Why series and other videos on Facebook and the Bustle app across Apple TV, Roku, and Amazon Fire TV.