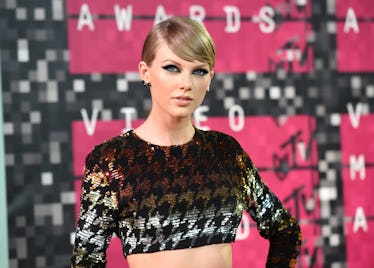 This Tiny Detail On Taylor Swift's 'Reputation' Tracklist Will Totally Blow Your Mind
Jason Merritt/TERM/Getty Images Entertainment/Getty Images
Taylor Swift released the Reputation tracklist on Nov. 7, and fans have obviously created their own theories about it already. The tracklist names 15 songs, but it's the first seven that has fans wondering what the meaning of the ellipsis on Taylor Swift's Reputation tracklist means. One pretty rock solid theory (in my ~humble~ opinion) is that the ellipsis surrounding "...Ready For It?" and "So It Goes..." means Reputation is split into two parts. Those first seven songs, according to this fan theory, are all about her reputation and how it's been formed by the media instead of herself, and the remaining eight songs are about her actual life.
It's a pretty solid theory if you ask me. Those ellipsis are definitely intentional, and the song titles for the first half of the album have a vastly different tone from the second half. This isn't to say Reputation is actually coming out in two discs or anything like that. No, fans are simply saying it's split into two narratives. The first "half" of the album features songs we've already heard like "Look What You Made Me Do" and "...Ready For It?" The second half includes "Gorgeous" and "Call It What You Want," which we've also already heard. Swift will reportedly be debuting one more single before the album's release during Scandal on Nov. 9, but we don't know for sure what song it will be.
Swift released the Reputation tracklist last night, Nov. 7, on her Instagram.
The song titles are "...Ready For It?" "End Game," "I Did Something Bad," "Don't Blame Me," "Delicate," "Look What You Made Me Do," "So It Goes...," "Gorgeous," "Getaway Car," "King Of My Heart," "Dancing With Our Hands Tied," "Dress," "This Is Why We Can't Have Nice Things," "Call It What You Want," and "New Year's Day."
Fans almost immediately caught the ellipsis and developed their two-part album theory.
Some other Reputation fan theories have been floating around for a while. There was a (now debunked) theory that Selena Gomez and Taylor Swift were collaborating on Reputation. The president and CEO of Big Machine (Swift's label) tweeted a video recently that showed behind-the-scenes footage of the creation of the two Reputation magazines. He tagged Swift and Gomez in the tweet, even though Gomez is nowhere to be seen in the video and none of her music is playing in the background.
Fans thought this meant the first official Telena collab was coming.
Now that we have the Reputation tracklist, however, this theory has proven false.
We now know this theory is true, as the Reputation tracklist revealed Swift collaborated with Ed Sheeran and Future on "End Game," the second song on the album. As for the second, seemingly more romantic half of the album, it looks like a majority of those songs will be about Joe Alwyn, Swift's boyfriend of one year.
The songs "Gorgeous" and "Call It What You Want" have fans convinced that she's singing about Alwyn and none of her other boyfriends. In fact, some of the fans who attended the Reputation Secret Sessions confirmed this theory, saying they had direct orders from Swift to spread the word that the love songs on the album are about Alwyn and Alwyn only.
So yeah, I guess all the love songs are all about Joe Alwyn!
While "Gorgeous" has a hella weird opening that features a child cooing the word "gorgeous," "Call It What You Want" is an intensely romantic track allegedly about Swift losing her "crown" and retreating into her personal relationships following all of the drama with Kim Kardashian and Kanye West over the last year. Since it's the second-to-last song on Reputation, we can probably expect "Call It What You Want" to have an even more intense emotional impact after we've heard all of the other songs leading up to it.