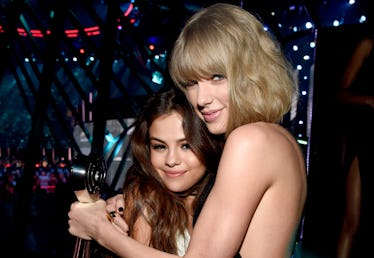 This 'Reputation' Teaser Has Fans Thinking Taylor Swift & Selena Gomez Are Collaborating
We're only a couple of days away from the release of Taylor Swift's Reputation, and safe to say fans are dying to hear the entire album. "Look What You Made Me Do," "...Ready For It?" "Gorgeous," and "Call It What You Want" have already been released, but those are all solo songs. People want to know what other singers we can expect to hear on Reputation, if any. There's a theory Ed Sheeran is on the album, and there's another theory that Selena Gomez will be. So are Taylor Swift and Selena Gomez collaborating on Reputation? One video tweeted by the president and CEO of Swift's label (Big Machine) has fans thinking the theory that's been floating around for months — that the two besties made a song together — is true.
The theory that Swift and Gomez collaborated on Reputation together first started on Twitter (where all conspiracy theories live and thrive). Swifties said there was talk that Gomez was not only featured on the album, but is also the only featured artist on the album. So much for that Ed Sheeran collaboration theory, huh? A tweet from a Swift fan account on Aug. 23 said,
sources have reported that there is a SELENA GOMEZ collaboration on #Reputation and it's the ONLY collaboration on the record!
And now, even more weight has been added to that Gomez rumor. The president and CEO of Big Machine, Scott Borchetta, tweeted a behind-the-scenes video of the creation of two magazines that are being simultaneously released with Reputation. They'll be available along with the album at Target when Reputation drops on Friday, Nov. 10. The magazines are reportedly a bunch of photos of Swift as well as notes and illustrations from Swift herself detailing what went into the creation of all the songs on Reputation.
In the video teaser, Borchetta tweeted, "This is so good..." and tagged Big Machine, Taylor Swift, and Selena Gomez.
But here's the thing: Selena Gomez is nowhere to be seen in the video, nor is her voice or any of her music heard. There is literally no trace of Gomez in the video, so why would Borchetta tag her in it?
Could it be because she's the only artist featured on Reputation? Could it be that she helped create these magazines, or even wrote a little something for Swift in them? Fans think it's the former.
At least one fan is still like, "Nah, fam. This is Ed's time."
It is pretty suspicious that Borchetta would tag Gomez in the tweet when there is no trace of her in the video he posted. Was she there while they created the magazines as a show of support for her bestie? Are they planning a "Bad Blood" part two?
As we all well know by now, the last (and only) time Swift and Gomez collaborated on a song was when Gomez co-starred in the "Bad Blood" music video. In the beginning of the video, she and Swift were partners in crime (literally), but Gomez betrays her, and then Swift spends the rest of the video preparing for their epic battle at the end of the video. It was a famously star-studded cast of women in the video, with stars like Cara Delevingne, Gigi Hadid, Ellen Pompeo, Ellie Goulding, Lena Dunham, Hailee Steinfeld, Zendaya, Mariska Hargitay, Cindy Crawford, and more appearing as Swift's new squad of bad*ss women.
The "Bad Blood" music video was the peak of the Taylor Swift squad days, back when being part of Swift's "squad" brought you just a little more fame. Now, it looks like Swift's squad barely even exists anymore. She even might have revealed who she still considers to be a squad member and who she doesn't in the "Look What You Made Me Do" music video. There were rumors that Swift and Gomez had grown apart and weren't really friends anymore, but a collaboration on Reputation would definitely squash those rumors for good.