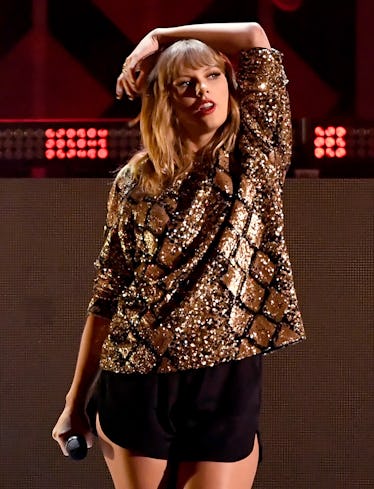 Taylor Swift Low-Key Threw Shade In Her "End Game" Video & You Probably Missed It
Kevin Winter/Getty Images Entertainment/Getty Images
ATTN WORLD: Taylor Swift's "End Game" music video is out and it's Christmas all over again. Swift's music video may have taken us across the world with some amazing visuals, but let's not forget the point behind the singer's revenge album Reputation. In fact, Taylor Swift referenced snakes again, and did it so subtly you might not have even noticed.
Swift's snake nickname surfaced in 2017, amid numerous feuds with celebrities ranging from Kim Kardashian & Kanye West, ex-boyfriend Calvin Harris, and performer Katy Perry, just to name a few. However, instead of backing down and "slithering," for lack of a better term, into a hole of shame, the singer-songwriter took that title and totally ran with it. From video teasers featuring the slimy serpent to literally selling gold snake rings on her website, is there anyone better than playing the celebrity game than Swift? Doubtful.
There are a few nods to the slithery serpent throughout the "End Game" music video, but the most apparent has got to be Swift literally playing the actual Microsoft-era video game Snake, completely unbothered, on top of a bar in London. I'm dead.
Say what you will about Swift herself, but we have to give the girl props for subtle originality.
Following the video's release at midnight ET on Jan. 12, Twitter literally exploded at the subtle shade Swift throws. It's safe to say that reactions are priceless.
While that's definitely the most obvious snake reference, it wouldn't be a true act of shade if there weren't just a few more teensy details surfacing in the video that Twitter caught. If one thing is more certain, it's that nothing gets past Taylor Swift fans. They. See. All.
Such as T. Swift rocking a skintight snake patterned body suit, on a motorcycle, naturally.
Or, the subtle snake straws adorning a table. Seriously, how do you guys notice this stuff?!
The song "End Game" is one of the singles of Swift's sixth studio album Reputation, and previous releases off the album were chock full of snake references too. The video for "Look What You Made Me Do," the first single, featured Taylor literally surrounded by snakes, wearing snake rings, and sitting on a throne with a snake just hanging out behind it. So it's probably safe to say that she's reclaimed the whole snake thing.
Snakes aside, the album — arguably her most anticipated of all time — was well-received by the public and was reported to be the only album to sell 1 million physical copies in 2017, according to Forbes. Jeez.
Jamieson Cox, a contributor for Pitchfork, gave the album a score of 6.5 out of 10. In his review, he cited Swift's evolution to innocent country bumpkin to the iconic pop performer she is today. He says,
For a decade, almost everyone agreed on Taylor Swift. She wrote exquisite love songs and scorching, funny takedowns at an age when most people struggle to put together a cogent email. ... How things have changed. The Swift that stands before us in 2017 is beleaguered and defensive, a figure fighting back from public relations problems she largely could've avoided.
Well, if she's fighting back, she's doing it with style. And snakeskin.
Swift's beef has seemingly fizzled over the past few months, with Kim Kardashian West reportedly blocking the snake emoji on her Instagram to Calvin Harris admitting regret for his infamous Twitter rant aimed at his ex. But it's clear that T. Swift is just getting started in embracing her slithery side.
Looks like you came out the winner this round of the game, T.Swift. Well played. Very well played indeed.