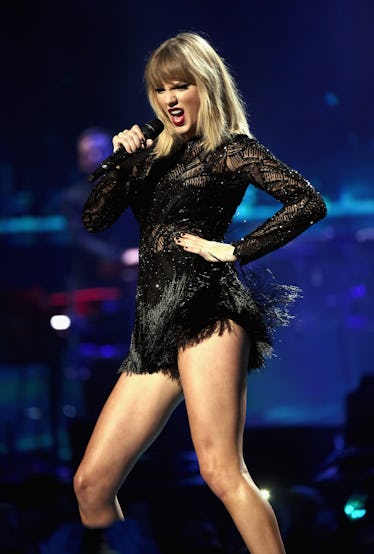 Taylor Swift Dropped Her "...Ready For It?" Music Video & It's Everything
Kevin Winter/Getty Images Entertainment/Getty Images
YOU ALL HAVE MY PERMISSION TO FREAK OUT. Taylor Swift's "...Ready For It" music video has been released and it is errythang. The much anticipated drop on Oct. 26 is the second music video and third single off Swift's upcoming Reputation album. The "...Ready For It" music video features a very futuristic (and very naked-looking) Swift wreaking havoc.
After the music video for "Look What You Made Me Do" was released during the 2017 VMAs, no one thought it could be topped. Leave it to Swift to blow our minds with "...Ready For It." There is so much drama and so many special effects jammed into this three-minute music video... it's basically like a movie. I've watched it 30 times already so I guess that's kind of like watching a movie.
Swift made the announcement about the huge drop on Oct. 23 via Instagram. She posted the clip three times with the same caption, "...Ready For It? Official Music Video out Thursday night. #ReadyForItMusicVideo." Swift posting the video three times doesn't seem to mean anything significant. She has a whole color blocking thing going on with her Insta, so I think she wants to keep it looking fresh — I can appreciate that. The album release Instagrams were black and white, "Look What You Made Me Do" was black and red, the "...Ready For It?" single announcement was orange, "Gorgeous" was pink, and now her "...Ready For It?" video looks to be black and blue.
"...Ready For It" had a very fun and bubbly release, which makes me feel a bit confused about the direction it's gone in. Let me rephrase: I like this cool, dark direction, so I don't understand Swift's tactic when releasing it. Swift released "...Ready For It" during a Saturday night college football showdown between No. 1 Alabama and No. 3 Florida State. There's nothing wrong with college football and obviously a lot of people (not me) watch it, so it's a strong platform.
I'm just not understanding how this...
Relates to this...
Like I said, I'm digging this new lightening, witch, naked, cyborg version better. The "...Ready For It?" lyrics are actually darker than the peppy beat would make you think.
Knew he was a killer first time that I saw him
Wonder how many girls he had loved and left haunted
But if he's a ghost, then I can be a phantom
Holdin' him for ransom
Some, some boys are tryin' too hard
He don't try at all, though
Younger than my exes but he act like such a man, so
I see nothing better, I keep him forever
Like a vendetta-ta
That's spooky stuff, I can see why Swift went in the witchy direction. The trailer that was released on Oct. 23 came as a shock to fans who weren't sure what the anticipated music video would look like. As always, there were subtle clues sprinkled all over the place.
The words "they're burning all the witches" appeared as graffiti on a ledge during literally the last second of the 15-second teaser.
Fans definitely thought this would somehow be a jab at Kanye West and Kim Kardashian. Isn't everything? Anyways, a theory concluded that Swift was painting herself as a "witch" who was being subjected to a "witch hunt" after Kim K released the videos of Swift and West's conversation about his song "Famous." Basically, everyone was losing their minds hating Swift when they should have realized it was all just hysteria.
This video drop is another step closer to Swift's full Reputation album, which drops on Nov. 10. Can't wait to see what else Swift's got up her sleeve.
Check out the entire Gen Why series and other videos on Facebook and the Bustle app across Apple TV, Roku, and Amazon Fire TV.