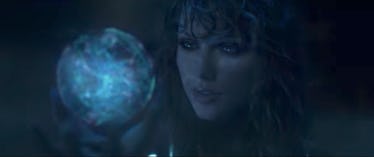 Here's Everything We Know About Taylor Swift's "...Ready For It?" Music Video Drop
YouTube
Most of the time, I love Taylor Swift. I can't get enough of her music, fashion choices, and subtle shading techniques. However, a small part of me dislikes all the anticipation she makes me feel. JUST SPILL THE TEA ON RELEASES, TAY. For example, there's so much mystery surrounding the release of Swift's newest music video, "...Ready For It?" What time is "...Ready For It?" dropping? Good question, Swift kept it as vague as possible.
I think part of my anger comes from the fact that the music video trailer looks wild, dramatic, and super visually stimulating — I'm literally so excited to see it. Swift released the teaser for her new video on Oct. 23 via Instagram. The trailer was posted three times with the same caption: "...Ready For It? Official Music Video out Thursday night. #ReadyForItMusicVideo" As you can see, Thursday night is very vague. Like, is Tay talking about 7 p.m. or midnight or somewhere in between? JUST LET ME KNOW, I'LL WATCH IT EITHER WAY.
It's not really that strange Swift posted the trailer three times. She's keeping her Instagram looking very clean with color blocking. Every release until now has gotten three posts in the same style. The short, 15-second preview looks insane. Swift appears to play multiple characters, including a witch and some sort of naked cyborg. The video is filled with lightning, breaking glass, and overall futuristically cool effects.
The music video for "Look What You Made Me Do" felt like it was going to be impossible to top, but Swift may have found a way to outdo herself... again. Actually, it's possible each video could relate to each other.
A major "...Ready For It?" (and general Taylor Swift) fan theory circulating right now is that Swift's upcoming album Reputation, releasing on Nov. 10, is actually going to be a visual album. That's right — Swift will go full Beyoncé and release a project modeled after Lemonade.
That would be so, so amazing. Although I don't really feed into the whole idea that Swift copied Beyoncé who copied Swift who copied Beyoncé — I like the thought that Swift might also do a visual album. That would be epic.
Whether "...Ready For It?" is part of a bigger project or not, fans are anxiously waiting to see who Swift is going to throw shade at next.
Obviously, fans are definitely thinking some jabs at Kanye West will be thrown. The moment that has everyone thinking Swift might be referencing West is when she appears naked in the video clip. Well, a nakedish bodysuit, which seems to be a reference to West's "Famous" music video in which he lays in bed with wax models of naked celebrities, with a nude Swift lookalike directly beside him.
West's "Famous" lyrics include this Swift mention: "I feel like me and Taylor might still have sex/Why? I made that b*tch famous." You may recall when the song came out, West claimed Swift approved that lyric and Kim Kardashian later released a recording of Swift appearing to sign off on the questionable lyrics about her. Now, July 17 (when Kim released the videos) is known as National Snake Day. YES, I KNOW YOU REMEMBER. WE ALL REMEMBER.
Am I getting sick of this feud? Yes, but I love decoding the secret meanings. I'm sure "...Ready For It?" will be filled with low-key clues that we can dissect and talk about forever. That's just the Taylor Swift way.
Overall, I can't wait until "...Ready For It?" is released on Oct. 26. Since Swift didn't give an exact time, I'll just have to keep refreshing my timeline over and over until the big moment. How many friends can I text asking "...Ready For It?" until the video comes out? Guess I'll find out now.
Check out the entire Gen Why series and other videos on Facebook and the Bustle app across Apple TV, Roku, and Amazon Fire TV.