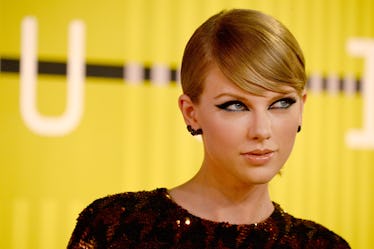 Taylor Swift Teased Her "...Ready For It?" Music Video & It Looks So Intense
Frazer Harrison/Getty Images Entertainment/Getty Images
Are you ready for it, Swifties? As we get closer and closer to the release of Taylor Swift's sixth studio album, reputation, a series of Instagram videos just announced that Taylor Swift's "...Ready For It?" music video is dropping this Thursday, Oct. 26. The videos seemingly show clips from the upcoming music video, and it looks intense AF. Swift posted the clip three times on her Instagram each with the caption, "...Ready For It? Official Music Video out Thursday night. #ReadyForItMusicVideo." So we know it's coming out this Thursday night, but we have no idea what time. Swift will probably keep it a surprise and drop it when we're least expecting it on Thursday night as we prep our last-minute Halloween costumes in a panic. Maybe this video will inspire some last-minute costume ideas??
The clips in the video seem like Fight Club, Tron, and Star Wars all wrapped up into one, and maybe even a little Harry Potter thrown in when she's holding up that smokey crystal ball that totally looks like it's straight out of the Hall of Prophecies in the Department of Mysteries. In the video, Swift is seen wearing what looks like a nude light-up bodysuit that makes her look like a robot that can control lightning. Like we said, the clips are intense.
The whole thing looks very futuristic, and fans are pumped.
Some fans are already comparing it to the "Bad Blood" music video.
There's also this one cryptic message fans have noticed.
In one part of the clip, Swift is seen standing on top of a platform (looking like she's getting literally electrocuted?) that says "They're burning all the witches" on it, so maybe this, paired with the fact that the video is coming out just days before Halloween, is a hint that the new video is going to be very Halloween-y and witchy?
The "...Ready For It?" lyrics are actually already kind of spooky, so this video seems right on point with the song. The lyrics go:
Knew he was a killer first time that I saw him
Wonder how many girls he had loved and left haunted
But if he's a ghost, then I can be a phantom
Holdin' him for ransom
Some, some boys are tryin' too hard
He don't try at all, though
Younger than my exes but he act like such a man, so
I see nothing better, I keep him forever
Like a vendetta-ta
Get it? Ghosts? Haunted? Phantom? Halloween. Maybe this new video will be a tribute to Hocus Pocus? Probably not, but someone should do that. That would be dope.
The "...Ready For It?" music video will be the second music video from Reputation.
The first was "Look What You Made Me Do." Last week, Swift dropped the single "Gorgeous," which most fans are convinced is about her boyfriend Joe Alwyn. People also think "...Ready For It?" is about Alwyn based on the line, "Younger than my exes but he act like such a man, so," which is a fair assumption, seeing as Alwyn, 26, is younger than most of Swift's, 27, exes.
The "...Ready For It?" music video doesn't seem to be the same one Swift was seen filming in London last week, however. Swift was seen riding around in London's signature black cabs, riding a double decker red bus, and walking across the Millennium Bridge while filming a music video last week and fans are pumped for it. Since it was filmed in London and Alwyn lives in London, fans think it could be the music video for "Gorgeous."
If one thing's for sure, it's that Taylor Swift fans are definitely not ready for the "...Ready For It?" music video.