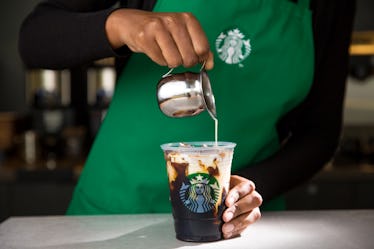 Starbucks Is Offering BOGO Iced Drinks Today, So Cool Down With A Friend
Starbucks is back again with another money-saving coffee deal. On Thursday, July 12, Starbucks will offer buy-one-get-one iced coffee drinks to patrons at participating stores nationwide. There have been a number of heat advisories, heat waves, and record-breaking temperatures this summer. So, while you're busy sweating away out there, you may want to sip on an iced brew to keep from overheating. Starbucks' July 12 Happy Hour offers BOGO iced drinks, so you can cool down with a friend.
OK, the heat is no joke. From coast to coast, there's no escaping the brutal summer sun. California is seeing triple-digit temperatures, while New York City experienced four straight days of 90-degree weather. What better way to cool off than with Starbucks' latest Happy Hour promotion? On Thursday, July 12, the coffee chain will serve up BOGO handcrafted iced espresso beverages, cold brew drinks, and iced coffees. In order to score a complimentary second drink, you must order a size grande or larger. The weather isn't showing any signs of cooling down any time soon, so the bigger the better, if you ask me. The deal starts at 3 p.m. local time, and continues throughout the remainder of the day.
This is one of the better Starbucks Happy Hour promotions I've seen, thanks to the variety of beverage options. There have been a couple of drink-specific deals lately like BOGO frappuccinos and BOGO espresso drinks, but none quite like this inclusive bargain. The Salted Cream Cold Foam Cold Brew and the Iced Vanilla Bean Coconutmilk Latte are both included in the July 12 Happy Hour promo. So, if you haven't tried Starbucks' two newest drinks, now is your chance to sample them at a discount.
In order to participate in Starbucks' Happy Hour deals, you need to be invited. It's not an exclusive club or anything, but you do need to register with Starbucks to receive your Happy Hour barcode. In order to participate, you will need to sign up for a Starbucks Rewards account or drop your information into the official Starbucks Happy Hour promo page. Now that you've provided Starbucks with your email address, the Happy Hour emails will start rolling in. Your next invite should arrive in no time. Typically, Starbucks offers Happy Hour deals on Thursday or Friday of each week (although, sometimes they skip a week here and there).
Oh, and make sure you download the Starbucks app to your iOS or Android device. The day before Happy Hour starts (and sometimes the morning of), If you're part of the Rewards program, Starbucks will send a notification to your phone reminding you of the upcoming deal. Just make sure you are logged into the app and have notifications turned on. This way you'll never miss out on a caffeinated treat. You can also access your Happy Hour barcode within the app by navigating to the "Inbox" tab and then clicking on "Messages." You should see all of your current offers there.
Now that you've got it all set up, reward yourself with a discounted coffee drink from Starbucks. To do so, open up the barcode and let your barista scan it after you order.
Since you can only redeem Happy Hour promotions at participating Starbucks locations throughout the United States and Canada, you're probably wondering which stores are taking part (and which ones aren't). To figure it out, my best advice is to call your nearest Starbucks location before you go. Or, you could check out their social media accounts to see if they've posted anything about the Happy Hour deals. There's bound to be a Starbucks close to you that's brewing up handcrafted iced espresso beverages, cold brew drinks, or iced coffees for the July 12 Happy Hour. Drink up, and stay cool out there.