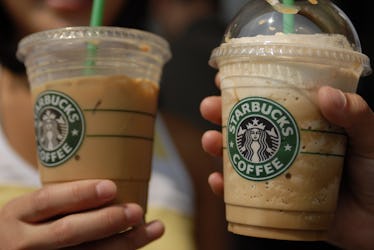 Here's How To Find Out Which Starbucks Are Offering Weekly Happy Hours
Melanie Conner/Getty Images News/Getty Images
If you haven't already heard, Starbucks' afternoon Happy Hour deals are in full swing. Once a week (and usually on Thursday), Starbucks offers a beverage special that's so good you'd be a fool not to take advantage of it. However, Starbucks' Happy Hour deals are only valid at participating locations, so how do you know where to go to get your discounted drink? Here's how to find out which Starbucks locations have Happy Hours if you are thirsty for a deal.
From 50 percent off espresso-based drinks to $3 grande Frappuccinos, there's a deal for any coffee lover during the Starbucks Happy Hour promotions. This year's Happy Hour deals launched at the end of March, and the Seattle-based coffee chain has been dishing out deals on coffee ever since. Not just anyone can score these deals, though. You must be a Starbucks Rewards member or sign up to receive Happy Hour emails to be notified about the caffeinated beverage bargains.
Once you are all squared away with that, it is time to figure out which Starbucks locations take part in Happy Hour. Here are a few ideas to help you determine if your neighborhood Starbucks store participates in the afternoon promotions.