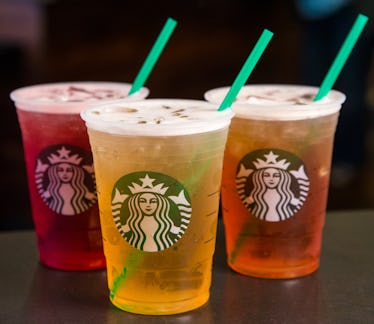 Starbucks Rewards Members Can Get Happy Hour Deals & Here's How To Sign Up
Want to score a deal on your next cup of coffee or tea? Listen up, because Starbucks has you covered with its weekly afternoon Happy Hour. Not familiar with the promotion? Let me fill you in on a little secret. Instead of spending $5 on your next iced coffee, the cost of your next java purchase could be cut by half. Do I have your attention yet? No, I'm not trying to pull the wool over your eyes. This is the real deal. In order to save a couple of bucks on your next caffeinated beverage order from Starbucks, you can sign up for Starbucks Rewards membership. What's the catch? Absolutely nothing. Here is how you can become a Starbucks Rewards Member to get their Happy Hour deals.
In order to participate in Starbucks' Happy Hour specials, you need to sign up for Starbucks Rewards account (or, you can sign up Starbucks' Happy Hour Page, which is just as easy). Signing up for a Starbucks Reward account is the best way to get alerted about upcoming Happy Hour promotions if you visit Starbucks frequently.
First, head over to the Starbucks to sign up for a Rewards account. Click the "Join Now" button in the middle of your screen. From there, you will need to enter in personal information such as your first and last name, zip code, email address, as well as create a password for your account. If you already have a Starbucks Card, there's a spot for you to enter in the card number and security code so that it is linked to your account. Check the box that you've read and agree to the terms of service, and click the green "Create Account" button.
There's just one more thing you'll need to do. It's another easy one, I promise. Head on over to the iOS or Google Play app stores and download the free Starbucks app. Once your download is complete, log into your recently created account. Keep in mind that Happy Hour promotions are by invite only. So just because your BFF might be getting half off her Frappucino tomorrow doesn't necessarily mean you will be. To see your offers, click the Inbox tab in your Starbucks app and navigate to the Messages folder. There, you will find your Happy Hour offer and promo code to show the barista when placing your order.
Oh, and one more thing: Turn on notifications for the app to make sure you stay up-to-date with the latest news and deals, like Happy Hour reminders. You'll also be able to load money directly to your Starbucks card, order ahead, pay by phone, get free in-store refills, as well as a free drink or food item on your birthday. Not to mention that you'll earn two Stars for every $1 you spend using your Starbucks account. For every 125 Stars, you will earn a free food or drink item of your choice. If you're a regular at Starbucks like I am, then signing up for its Rewards Program is a no-brainer.
Not only will you now be included in upcoming Happy Hour promotions, you will also receive the latest Starbucks news and exclusive deals on drinks and food items on the menu. Legit, right? Starbucks is known for its incredible Happy Hour deals. Recently, Starbucks offered 50 percent off of all espresso-based beverages from 3 p.m. to close at participating locations. Haven't tried the Iced Starbucks Blonde Cold Foam Cappuccino yet? Better sign up now to save big next time. Or maybe you're a bit late to the party on the Iced Cold Foam Cappuccino. Not to worry, because the Starbucks Happy Hour pricing has you (and your wallet) in mind.
Mark your calendars. It looks like the next Happy Hour will be on Thursday, May 17, starting at 3 p.m. As long as you're a member, you'll be able to score a grande Frappuccino for $3. I dare say this deal might be better than that half-priced, after-work margarita. Why not suggest a change of plans one afternoon and meet your friends and co-workers for jolt of caffeine instead of a round at the bar.