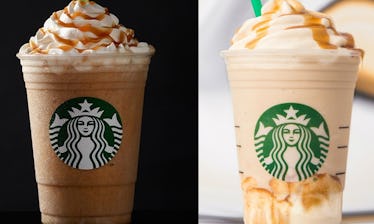 Starbucks Is Offering A Major Discount On Frappuccinos Today, So Don't Miss Out
Starbucks
Calling all coffee lovers: Starbucks is back with their esteemed Happy Hour deal. On Thursday, May 17, you can save big on your next afternoon frappuccino order. Really, this is the perfect way to jumpstart your Friday eve. If you are a fan of the frozen coffee-or-creme-blended beverages, this special sale is for you. Starting at 3 p.m. until close, you can score your favorite frappuccino for just a few bucks instead of the usual $5 or more, depending on your order, that is. Starbucks' latest Happy Hour is offering $3 grande frappuccinos to anyone who has registered for an account, so sign up ASAP.
If you love a good deal, especially discounted coffee, then you do not want to let the frappuccino Happy Hour pass you by. In order to access the Happy Hour special, you will need to sign up for a Starbucks Rewards membership. Or, if that's not your thing, you can still get access to this sweet sale by registering for Starbucks Happy Hour emails. Starbucks will just need a bit of information from you, including your name, a valid email address, and a few other personal details. Either way, if you want to take advantage of this promo, you will need to do one of the two. You'll be glad you did.
For just $3, you can order any grade-sized iced, coffee-blended frappuccino of your choice for a midday pick-me-up. So, if you haven't already checked out the two new frappuccino menu items released on Tuesday, May 1, like the Triple Mocha Frappuccino and Ultra Caramel Frappuccino, now is an opportune time to sample them at a reduced cost. I can attest that both are delicious, so you really can't go wrong with either. As an added bonus, both of these tasty treats comes topped with the Sweet Cream Cold Brew Whipped Cream.
Both frappuccino are a twist on the classics you know and love, but now the flavor is bigger and bolder than ever before. Take the Ultra Caramel Frappuccino, for example, which touts "extra texture, beautiful layers, and tons of flavor." Is your mouth watering yet? Wipe up the drool, because the Triple Mocha Frappuccino sounds just as good. This one really ups the ante with three times the mocha, as well as a richer flavor, and fuller, creamier texture than the standard Mocha Frappuccino.
Depending on what part of the country you live in, a 16-ounce sized cup of either of these frappuccino will cost you between $5.24 and $5.45. So, considering the fact that after 3 p.m., you can order one of these tasty new blends for $3, why wouldn't you? TBH, who doesn't need a jolt of caffeine the day before Friday? I know I do. And for $3? There is not much you can get for just a few dollars these days, especially not something as delicious as a Starbucks frappuccino, so enjoy this deal while the gettin's still good.
Prior to this frozen beverage bargain, Starbucks offered 50 percent off espresso-based drinks during their last Happy Hour. One thing is for sure: Starbucks doesn't mess around when it comes to a good deal. Starbucks started rolling out their Happy Hour deals at the end of March, and since it's only May, there is plenty of time for you to sign up and sip on these Happy Hour promos all year long. Today it's $3 grande frappuccino, so what caffeinated deal does Starbucks have up their sleeve next? Only time will tell, but it sure seems like the coffee chain will continue to brew up a few good Happy Hour deals.
As per usual, the Starbucks Happy Hour deal is valid at participating locations only, so give your local barista a ring before you venture out to order.