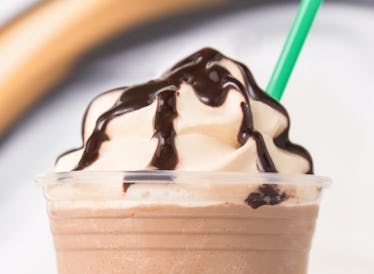 Starbucks Released Coffee-Flavored Whipped Cream & I Honestly Need It
Starbucks
I'd like to think that I have a good amount of self control, but when it comes to "whip or no whip" on my Starbucks drinks, all bets are off. Whipped cream is my biggest weakness. My vice. My everything. And now that Starbucks' Sweet Cold Brew Whipped Cream is finally here, there's no stopping me. I am about to be a Sweet Cold Brew Whipped Cream eating machine, and there's nothing anyone can do about it. Don't even try saving me from myself.
Do I love coffee? Check. Do I have a sweet tooth? Check. Am I head-over-heels obsessed with whipped cream? Double check. I've come to terms with the fact that Starbucks' Sweet Cold Brew Whipped Cream is going to do me dirty, to say the least, and it won't be pretty. According to a press release, the new whipped cream is infused with cold brew coffee, dark caramel sauce, and white chocolate mocha sauce... so if that isn't what you call "heaven," I honestly don't know what is.
Sweet Cold Brew Whipped Cream was released as a permanent addition to Starbucks menus throughout the United States and Canada on May 1, 2018. Customers can order it on any drink of their choice for 50 cents extra, which means I'll be ordering it on literally everything. I'm just warning all of you ahead of time: If you see someone completely covered in whipped cream running through the streets of Brooklyn this upcoming May Day, just assume it's me. I'll be having the time of my freaking life.
In my opinion, combining smooth cold brew with sweet caramel sauce, white mocha chocolate sauce, and whipped cream might be hazardous to our society. What will happen to all the sugar-lovers out there? Will I be able to order a plain cup of Sweet Cold Brew Whipped Cream through the Starbucks app? Will there be IVs available of this stuff? I have a lot of questions about Sweet Cold Brew Whipped Cream, and absolutely none of them will be answered until I get my hands on some. I guess I'll just have to wait and see.
Along with this glorious new creation, Starbucks is adding two new permanent Frappuccinos to their menu. Both will be the first permanent frappuccino additions in years, and I'm so ready. The company introduced the new Ultra Caramel Frappuccino and the new Triple Mocha Frappuccino, which are like glorious sequels to the classic Caramel and Mocha Frappuccinos. The Ultra Caramel Frappuccino tastes like thick, creamy coffee and caramel, while the Triple Mocha Frappuccino is like a rich caffeine boost that combines chocolate and coffee. Both have layers of the Sweet Cold Brew Whipped Cream and will be part of Starbucks' permanent menu.
If you're trying to come down from the sugar high of a lifetime, try any of Starbucks' new cold foam drinks. They officially hit menus on Tuesday, April 17 at all participating Starbucks locations in the United States and Canada. The cold foam specialty drinks include the Cold Foam Cascara Cold Brew, the Cold Foam Cascara Nitro Cold Brew (as long as Nitro is available at your local Starbucks), and the Cold Foam Starbucks Blonde Iced Cappuccino. Each cold foam drink is simultaneously rich and refreshing. and they'll definitely calm you down after devouring way too much Sweet Cold Brew Whipped Cream (oops).
Even though I might transform into a completely different person after trying Starbucks' Sweet Cold Brew Whipped Cream, trust me, I'm still me... but way better. The release of the whipped cream, as well as the new frappuccinos, are probably going to be the highlight of my 2018. I'm at my peak, and almost nothing can stop me now.