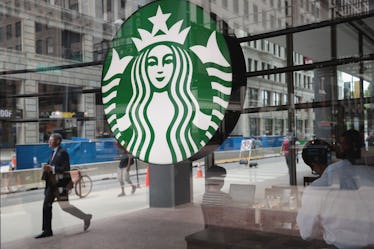 Starbucks Is Offering BOGO Espresso Drinks Today, So Get Thirsty
Scott Olson/Getty Images News/Getty Images
There's a lot to be said about the magical concept of a BOGO deal. Whether it's buy-one-get-one T-shirts, soft pretzels, or even office supplies, I'm always down to get more than what I paid for. You can go in on something with a friend, or you can even get an extra little somethin'-somethin' for yourself. Regardless of how you approach a BOGO deal, you should know that Starbucks' July 6 Happy Hour has BOGO espresso drinks — so mark your calendars and set your phone alarms right this second. I am so hyped.
If you haven't already heard, Friday, July 6 is going to be a really, really special day. No, not because it'll finally put an end this long and seemingly-endless work week, or because it's going to be 50 Cent's 44th birthday (it's not his 50th, but I'm still stoked). Anyway, I'll be celebrating like no tomorrow, because Starbucks will be hosting a BOGO espresso drink Happy Hour, starting promptly at 3 p.m. If you received Starbucks' latest Happy Hour emails or signed up for their Rewards program, you've definitely heard about it — and if not, I'm telling you now. Anyway, as of Friday, almost everything will finally be right (and also really, really energized) in this cruel and relatively confusing world.
FYI, this BOGO deal won't limit you to drinking two orders of straight-up espresso. On the contrary, customers will be able to indulge on any and all drinks mixed with even the tiniest bit of espresso. So whether you're hankering for a Caffé Americano, a Cappuccino, or even an Iced Cold Foam Cappuccino (which is definitely going to be my order this Friday afternoon), you can pay for one and get one for free (which will definitely turn my 3 p.m. slump around in a matter of minutes... maybe even seconds). Just make sure to check the Starbucks website for their list of espresso drinks if you haven't already decided on that life-or-death Happy Hour order, because knowing your order ahead of time is crucial in the realm of Starbucks etiquette.
Thankfully, getting invited to snag discounted drinks is so easy, and I promise the trek will be 100 percent worth it. To get in on this, all you'll have to do is show up, after becoming a Starbucks rewards member. Signing up is quick and free on the Starbucks website, and after you do so, you'll start receiving Happy Hour invites through the app. They'll notify you when the next Happy Hour will be, and which drinks will be on sale. Once you get to a Starbucks for that highly-anticipated Happy Hour, just tell the barista you'd like to redeem your Happy Hour discount. It's literally that easy. If you're not into commitment, you can always sign up for Starbucks' Happy Hour deals on their website.
If you didn't go to last week's Starbucks Happy Hour, you seriously missed out. The coffee chain was offering BOGO frappuccinos for customers who stopped by after 3 p.m. on Friday, June 29. Customers were able to receive a free grande (or larger) frappuccino with their frappuccino order, and although there were probably a helluva lot of brain freezes at Starbucks that day, the world truly was a better place.
Starbucks' existence makes me really happy on a regular basis, but when they're offering buy-one-get-one espresso drinks, it makes my life a living daydream. Deciding on a drink is going to be a serious challenge, but once I finally order, I know the anxiety of choosing one will be well worth it. Happy Friday, merry sipping, and most importantly, enjoy that energized end to your work week, y'all.