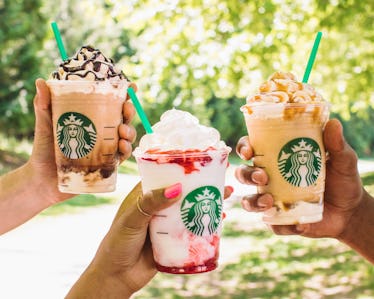 Starbucks' Happy Hour Is Offering BOGO Frappuccinos Today, So Bring A Friend
It's Friday, ya'll, and you know what that means: It's almost time for Happy Hour. Today's Happy Hour won't require any booze, though, because Starbucks is coming in clutch with a post-work drink special that you won't want to miss. Yup, Starbucks' June 29 Happy Hour has BOGO frappuccinos, so take your friend to the (coffee) bar when you leave the office.
If you're a true frappuccino fan, you'll know that Starbucks recently released a few new flavors that'll make your Happy Hour stop so much sweeter (I'm looking at you, Serious Strawberry). To partake in the deal and try the new sips, stop by your local Starbucks after 3 p.m. on Friday, June 29. If you're signed up for Happy Hours, you'll be able to buy a grande (or larger) frappuccino and get one at equal or lesser value for free.
The fun doesn't stop there, though. Starbucks is also offering BOGO espresso drinks on Friday after 3 p.m. for everyone who needs a stronger afternoon pick-me-up. Whether you're craving a dessert-like treat or an energizing post-work drink, Starbucks has your back. Just keep in mind that this Happy Hour deal excludes bottled beverages, brewed coffee, and Starbucks Reserve drinks.
If this Happy Hour deal seems like a shock to you, it's probably because you had no idea it was happening. In order to get the scoop on Starbucks Happy Hours (like this one), you'll need to get invited to them. Sure, this might seem like a little exclusive, but trust me: These Happy Hours are so easy to get involved with, and signing up for an invite is well worth your time. After signing up, you'll be scoring discounted Starbucks drinks in no time.
In order to get an invitation, you have two options: You can sign up on Starbucks' Happy Hour website, or you can sign up to be a Starbucks Rewards member. Let's start with Starbucks' website, though. If you're just seeking Happy Hour deals, click here and fill out the required fields. Once you're signed up and ready to go, you'll be taken to a webpage that will tell you about the next Starbucks Happy Hour. It will also give you a code that you'll need to show your barista upon ordering your discounted drink, so make sure you write it down (or screenshot the page on your phone). After signing up, you'll also get weekly emails that will inform you about upcoming Happy Hours. You're welcome.
If you're a diehard Starbucks customer who visits multiple times a week (or day) for coffee, then maybe you should just sign up to be a Starbucks Rewards member. By doing so, you'll receive exclusive drink deals and get notified about Happy Hours directly through your Starbucks app. If you take this route, you'll get a little bit more than just a weekly Happy Hour deal — and it's totally worth it.
As you can see, digital notifications play a big role in Starbucks' Happy Hours, and that's a big part of what the company was going for. According to an initial Happy Hour press release from March 2018, the company explained that these Happy Hour promotions are helping strengthen digital customer relationships.
Matt Ryan, executive vice president and chief strategy officer for Starbucks, talked about the deals in a press release. He said, "With nearly 100 million customers in our stores every week, we're looking for more opportunities to engage directly and personally, providing them with special benefits and offers that are meaningful. This shift in Happy Hour is just one example of how we can further establish, strengthen and develop digital relationships with our customers."
Well, I'm sold. Make sure you head to Starbucks on Friday afternoon for your BOGO drink special.